BY DAWN PISTO
Saturday, on my way to Diamond Mill Off Highway Vehicle area, I got a message from a friend. "We're heading out to Rogers Camp to ride around the circumference of Browns Camp tomorrow morning. Not sure on exact timeline yet. Are you interested?"  
I've been wanting to ride with this friend, but Browns Camp was a hard sell especially after a day of riding Diamond Mill.  Rogers Camp is the closest OHV area in Tillamook State Forest to Portland.  It's usually busy, with the most quad trails and quad riders.  I waited to see how much energy I had left in case my Saturday ride turned into 50 miles of gnarly single track, failed hill climbs, and bushwhacking.  We ended up doing 30 miles, and I felt pretty good.  I checked my phone when I got home. "We are all taking Altas out."  I couldn't pass that up.  The Alta Redshift MX is a trail-ready electric motocross bike introduced in 2016.
I had seen an electric bike on the trail a few years ago made by a different company.  I was intrigued enough to look into a test ride, but it was unclear if you were able to test ride on trails, and it was a long haul to Salem to ride around a parking lot.  I didn't really hear much more about them and never saw one again.  The curiosity was usurped with the need to replace my 10-year-old dirt bike, and an electric powered motorcycle was not yet on the radar.
Electric bikes were getting fast.  I had heard in passing of the amazing torque they were generating, especially functional for drag racing, but was not sure how it applied to dirt biking.  It's hard to wrap your head around if you've never tried one.  The only electric vehicles for decades were golf carts, rascals and maybe play electric bikes.  Motorcycles have been powered by gasoline since they were invented.
The Rogers Camp parking lot was busy, the perfect place to show up with an electric bike you want to introduce to other riders.  As we set off, the reps were on two Alta Redshift MX bikes; another rider and I were on our own bikes. The reps led with a quick pace.  I could see these bikes were fast and seemed agile.
Well into the ride we switched bikes for a couple miles.  Since it was only a couple of miles, these are very initial impressions.  Instructions:  turn power on, twist throttle. There is no choke, kickstart or e-start. No turning on the gas, no shifting,and  no gears.  All you hear is the chain and the tires on the ground. It is a very strange feeling.
Without the usual cues, like the sound of blipping the throttle over a jump, it takes you by surprise when it silently does what you expected.  It takes a while to adjust to this.  Hearing the sound would tell my legs to hang on, and not having that subconscious reminder felt disjointed at first. Having no sound, clutch, shifting, or vibration of the rotating mass of a gasoline engine, 70 percent of your normal sensory input is suddenly freed up.  All there is to think about is throttle control and braking.  With practice, I think I could ride the Alta faster than my current bike simply because my attention is unoccupied.
I rode in mode one, which is supposed to mimic engine braking and tame the throttle response the most of the four different maps.  The engine braking is regenerative; the energy from the back wheel is used to recharge the battery.  The throttle response was different, not better or worse than a gasoline motorcycle, just different.  I'd need more time on it to pinpoint the differences, but it was different than carburetor vs fuel injection, and nothing like a golf cart.  
It also seemed very light.  A stock Redshift MX is 267lb. My FE 350 dry is 240lb, with an additional 15-20lb for fluid and bark busters, so the weights are similar.  However, the Alta seemed much lighter.  The center of gravity is much lower, and the lack of a rotating mass may contribute to the feeling of a steadier weight.
The shock seemed bouncy as though low speed compression and rebound were soft, which is odd. I'm about 160 pounds with gear, at the low end of most stock suspension. Usually when I get on someone else's bike, the compression and rebound barely move.  Again, I didn't ride it very long. Given another chance, I'd try to pay more attention to what was happening.
The handle bars have only a brake lever and a throttle.  Not having the clutch and bark busters made it feel bicycle-like.  The handlebars also felt lower than my bike; Once I was standing in the proper riding position with head over the bars, the bike seemed to disappear beneath me. It felt like floating through the woods.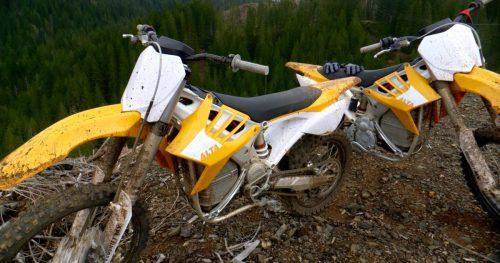 It was a kick turning heads on the trail.  Even with helmets on, I could see the body language of the riders we encountered was that of shock and disbelief. A few riders took impromptu test rides, and most riders asked a lot of questions. The most common was, "How long does the battery last?"  My odometer read 22.4 miles at the end of the ride. The Altas may have had a couple more miles because of the test rides in the woods. One Alta had one bar of battery left, and the other had two bars when we got back to the parking lot, and I didn't take notice of the amount of time we rode. An Alta takes 2.5 hours to charge with a 220V charger and 4.5 hours with 110V. It is possible to swap batteries, but it takes two people and seems to be more set up for recharging after use.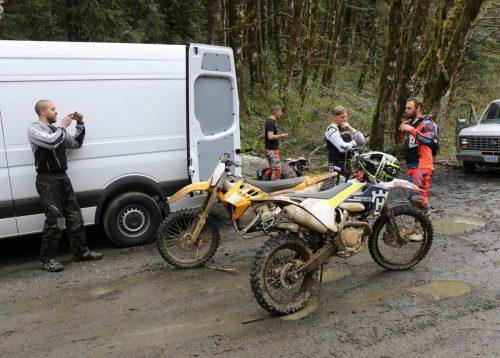 The drawback to having an Alta as my only dirt bike would be the battery capacity.  I can't tell my riding mates that I can only ride for two hours.  Our normal ride is usually longer than that and farther than 22 miles. The forest out here in the Pacific Northwest can get gnarly, and sometimes you are unintentionally out for four to six hours.  
Riding silently in the woods is like a different sport than gas-powered dirt biking, and another severely addictive sport. The thrill of the ride would make for a great 2nd dirt bike. For the hours you do ride, there is no compromise in performance compared to a gas-powered race-ready MX bike, and flying silently through the trails is extraordinary.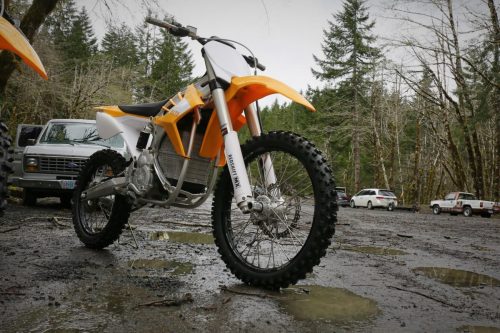 For more about Alta's, check out their WEBSITE or find a dealer near you!
Follow Dawn on Instagram @dawnchescamonccini