BY ELISA WIRKALA
Kath groaned as she ascended the steep Andean trail. The immense spires of Fitz Roy loomed in the distance, a drastic contrast to the otherwise flat Patagonian landscape.
I followed with an exhausted sigh, hauling myself ever upwards on the twenty mile day hike. "I'm too old for this", I half-joked, feeling beat, but happy with the adventure we'd chosen for my 30th birthday.
We were both fit and healthy young women, but had just spent weeks glued to our motorcycles as we wound our way from Santiago de Chile down the Carretera Austral and into Argentina. After thousands of miles of rugged dirt and gravel roads, we were knackered at the end of each long day, and would forget to do even basic stretches. Sure, we strolled around town or meandered up trails. We would joke that lugging our heavy backpacks to and from our motorcycles provided some semblance of a workout, but in reality it was never enough. We were mentally and physically exhausted from the grind of the road, but our muscles were atrophying.  
As a pretty serious rock climber, I was used to an intense level of exercise. Setting off on a 20,000 mile ride across the Americas, I had a lot to learn about how to stay fit and strong while spending most of the day in the saddle.
I'm far from alone in my plight to stay healthy while traversing thousands of sedentary miles. And because learning is an ever-continuing process, I reached out to a set of serious adventurers to learn a thing or two about health and fitness on the road.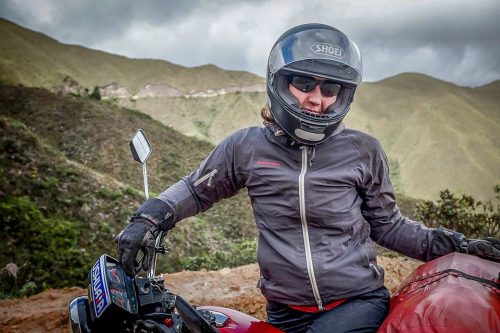 I often find myself sluggish and losing muscle mass after weeks or months on the road. As a healthy, active person and serious rider, how do you stay fit and healthy with so much time on the bike?
Alex: Staying healthy is the hardest part of any motorcycle trip. Because we associate it with vacation and leisure, it's hard to get out of that mind set. I have to push myself mentally to "live" on the the road. This means setting up a daily workout routine at the hotel, hostel, campground or even at a gas station. Five to fifteen minutes of push-ups, sit-ups, or jogging goes a long way over extended periods of time on the road. Watching what I eat is also important; I prefer canned beans to fried food. My best piece of advice? Stay away from alcohol, exercise wherever you are (even if it's embarrassing), and watch what you eat.
Shal: I was in a near fatal motorcycle accident in 2011 and went through seven orthopedic surgeries shortly after. So, I MUST stay in shape to ride. I make fitness a priority in the off-season and then during the riding season, I follow a maintenance program. On our North America tour, I would follow my riding partner, Steph Terrien's lead in yoga, which we'd try and do each morning prior to setting out.
I believe in both strength training and cardio conditioning, followed up with some good stretching. The key is being efficient and pushing yourself. Just going through the motions isn't going to cut it. I think having a reason for getting strong, fit and healthy is super helpful. You want to be a good rider? Ride longer? Enjoy the ride even more? Then work out!
El: I'm a very lazy person by nature. There has to be joy and purpose in a sport, otherwise I won't move a muscle. All of this makes staying fit on the road a lot more difficult. I ran out of money in Argentina, so I found a job training horses and spent two months breaking in young wild stallions. That made me move quite a bit! But ideally, I need to get into a situation where there's simply no other option, like hiking to Machu Picchu or Colca canyon. I will also happily help people chop wood, mow lawns, handle horses or garden. There's a double benefit of getting food and board in exchange for work, too!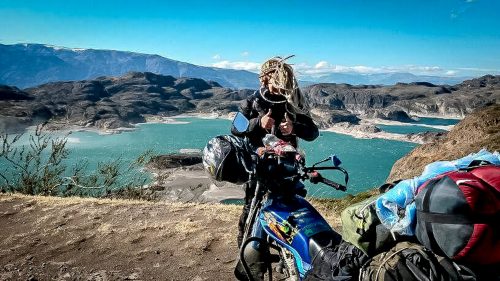 Anything in particular you take with you or plan to do to encourage physical activity?     
Me: I always bring hiking or backpacking gear or other compact sports paraphernalia, but only if I'll actually use them. In Tasmania, for example, I left the bike for a few weeks and had a bush pilot drop me off in the middle of a national park with an area of over 1.5 million acres. My options were pretty simple: Find a new life for myself in the Tasmanian wilds, or hike 70 miles through swamps and over a small mountain range back to civilization. I chose the latter options, a little fitter for it.
Not enough space on the bike? Lose some clothes, or do a little research into Ultralight backpacking. Like to climb? Bring your harness and shoes like I do, and go make friends. With the internet and sites like Couchsurfing, it's easy to join outdoorsy people all over the globe.
As a lactose-intolerant vegetarian, I sometimes find myself living on eggs and rice for months at a time. Have you found yourself in countries where the diet has been particularly difficult for you, or has it been pretty easy?
El: This year has been a year of a lot of significant changes for me, and one of them was my attitude towards nutrition, especially as someone with hypothyroidism.
I used to be a Coca Cola-drinking, processed foods-eating smoker. Now I'm an enlightened, female version of JP Sears. I'm a paleo-crazed pillar of self-righteousness and virtue (El says with a laugh), so I refuse to eat anything processed, anything with gluten, and anything with sugar. This would be easy enough in South and Central America where you can go to the local market and stuff your face with fresh local fruit, divine grass fed beef and raw goat cheese. In Europe, though, all that is very expensive and being on a budget, I can rarely afford shopping in organic health food stores. So, I pad my jacket with small packs of dried goji berries and nuts, fill on apples from Lidl, and hoard packets of organic beef jerky for a rainy day. It would be so much easier to just live on gas station hot dogs and sandwiches and cook pasta bolognese every day, but that has a detrimental effect on my health and well being.
Shal: About half way through our tour, we wanted to figure out how we could still eat well but not have to spend so much time around food. We used our down-time in Maine to also focus on food and prepared three months of dehydrated food. That cut down on the time spent shopping, cooking and cleaning up during our travel time. Boil water, let the food hydrate while we set up camp and boom!  Dinner served! We would still have to supplement fats and such since dehydrated food has none. We would carry two weeks of food at a time and send boxes ahead of us to various post offices along our route. 
Tiffany: I try to keep healthy with eating a wide range of foods where possible and will always try local delicacies I'm unfamiliar with- I'm vegetarian and so avoid all meat and fish. The most difficult country for this is Mongolia where they are nomadic and cultivation is not part of their culture–it is very meat-based. Yes, I do get bored with rice and beans or "nshima" (mealy maize) and beans but that's when I make sure to buy veggies in the market and cook my own food when I can. I always carry some lentils in my food store, just in case.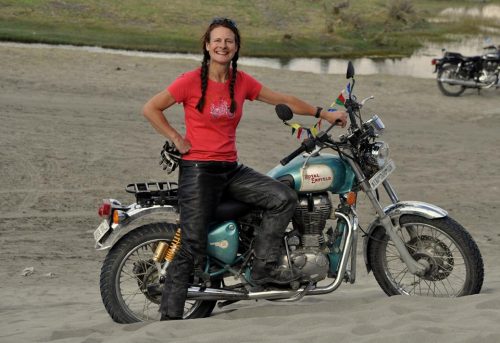 Have injuries, bike related or not, ever made riding difficult? How did you overcome or deal with these situations?
Shal: When we set out on our tour in 2014, I was still very much having to deal with chronic pain, weakness and a lack of stamina from the seven orthopedic surgeries from 2012. The first several thousand miles up to Alaska were extremely painful and I was really afraid that my body was not ready for such an epic trip. But, with tolerance and patience from my partner, Steph, I was able to get through the discomfort. There were days that we couldn't ride as long or hike as far. I would do my exercises and stretching as routinely as possible and with a bit of determination, I got through it. Having three months of rest in Maine really helped with this in that I got to focus on my fitness. The second half to our tour was a completely different experience. I was strong and fit, and healthier than I had been in quite some time. Even though the majority of the second half to our tour was off-road and in the back country, I was riding harder, longer and enjoying the riding a lot more.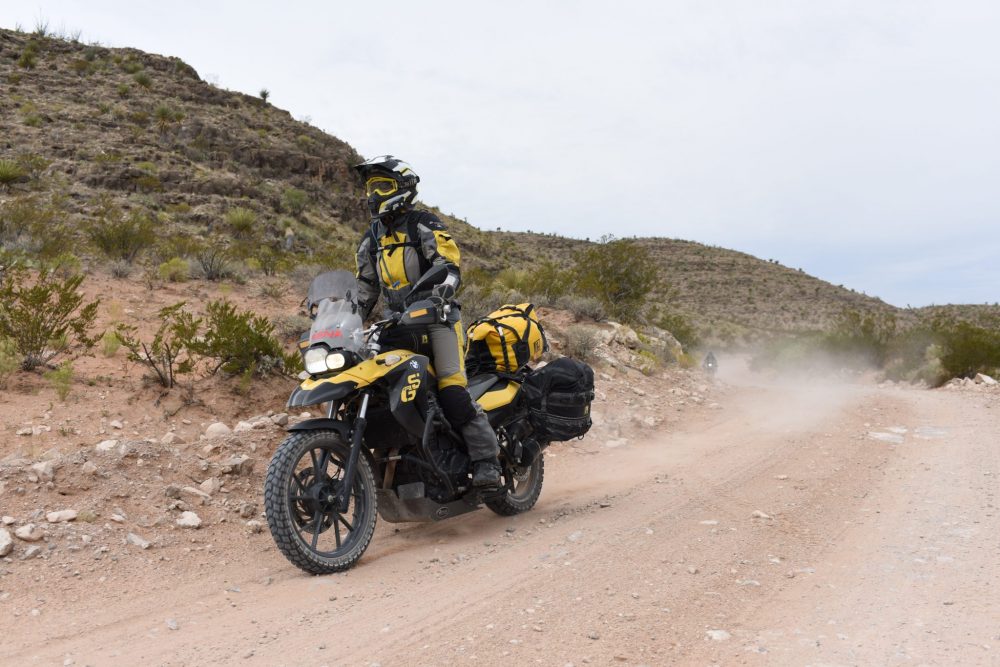 Me: With a back injury sustained as a teenager, I always need to take care. My first bike, a Honda Shadow 750, turned out to be a terribly aggravating riding position. Once I discovered the upright position of dual sports, with lower knees and feet almost under hips, I was sold. The ergonomics helped incredibly, and with the added benefit of using Motonaut (add link: http://motonaut.com/web/) straps to attach dry bags behind my back as a lumbar support, I could suddenly ride hundreds of miles pain-free. Still, I need to remember to stretch out, walk plenty, and incorporate dynamic movements like jumping jacks, standing side twists and lunges into my exercise routine to help get movement to stiff muscles.  
Has anything been particularly helpful to you?
Me: Planning major time off the bike to focus on physical fitness is paramount to my health and wellbeing. I just can't find the time and energy while riding for serious athletic pursuits. To balance things out and push myself physically, I do at least one major non-bike related outdoor adventure every year: A five hundred mile hike across Spain on the Camino de Santiago, spending a season learning to ski and mountaineer in order to cross the Wrangell-St. Elias mountains on a glacier expedition, or backpacking across a national park for a few weeks. Not only are these incredible for physical health, but they also offer time to focus on other pursuits and really enjoy nature.
Anything to add on health and well-being?
Alex: We all usually hang out at hostels. They are cheap and the best for motorcycle parking, but in that environment most people are there to party, drink, and have fun on a short vacation. It's easy to get lost in this environment and lose yourself and health in the process. Keep your mind level headed and clear as to the purpose of your trip or journey, and don't let the lives and experiences of others dictate your choices when you travel.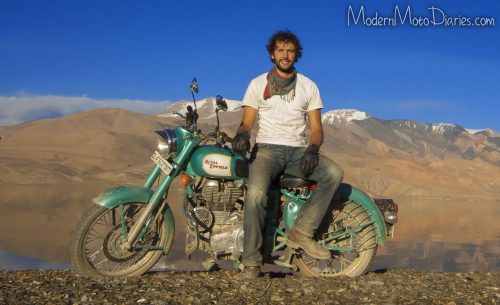 Meet the crew, who together have ridden nearly a million miles:
Tiffany Coates from the UK is one of the best travelled female motorcyclists of our time. Having ridden 80 countries over 250,000 miles (enough miles to circumnavigate the earth ten times), she's no novice to staying fit and healthy while on the long haul. Tiffany is also the only freelance motorcycle guide to Madagascar!
Shalmarie Wilson, the 47 year old project manager of SheADV.com, toured North America for 15 months and covered 31,000 miles on that trip alone. After a near fatal accident and miraculous recovery, Shal definitely has some first-hand insight.
Alex Chacon, a 29 year old Texan, has ridden 40 countries over the last 200,000 miles. He's also the creator of some visually stunning YouTube sensations that'll be sure to get you itching for life on the road.
Egle Gerulaityte, AKA "El", is a 31 year old Lithuanian lass who's not only an actual horse whisperer, but also a writer, editor and international adventure motorcyclist who has traveled 26 countries spanning 40,000 miles (and counting). 
Me: As a 32 year old climber, sponsored Garmont Adventurer  and occasional athlete who's ridden across four continents, I'll add some thoughts to the mix, too.
Have any suggestions for staying fit and healthy while on the road? Post your tips and tricks in the comments, below!