BY ANNA KOPP Those were my first words on the first evening at the get-to-know-each-other-dinner with Charley Boorman and Billy Ward the day before we were set to leave Cape Town for the journey of a lifetime all the way up to Victoria Falls in Zimbabwe.
What a way to make a first impression! I think I managed to salvage my reputation when my husband showed them a GoPro video of the most spectacular off the cliff jump'n'crash that earned me the nick name Evel Knievel a few years back. This spectacular clutch fail made me a legend in my own lifetime and has been cause for many groans and wide opening of eyes.
Africa, oh, I bless the rains down in Africa. Who would have thought that we would need to layer up with everything we had that first week until we hit the Namibian border. We had temperatures as low as 6 Celsius and even one day of perpetual rain. We had to crack on though, this is adventure riding, come hell or high water.
As we arrived in Springbok, the virtues of a heated blanket has just never been as crystal clear to me as in that moment. As we progressed north, the weather gods got benevolent with us, and we spent a total of 17 days cruising up from Cape Town, through Namibia, with a 2 day rest stop at a Rhino Wildlife Reserve in Namibia and another 3 day in Etosha National Reserve, experienced the reality of Botswana and Zimbabwe border crossings that made us think we might be on Candid Camera, we finally arrived in Victoria Falls. Then reality hit us, our only thought now was: Oh, no, it is over. Wanna go again! (stomping foot like a 2 year old).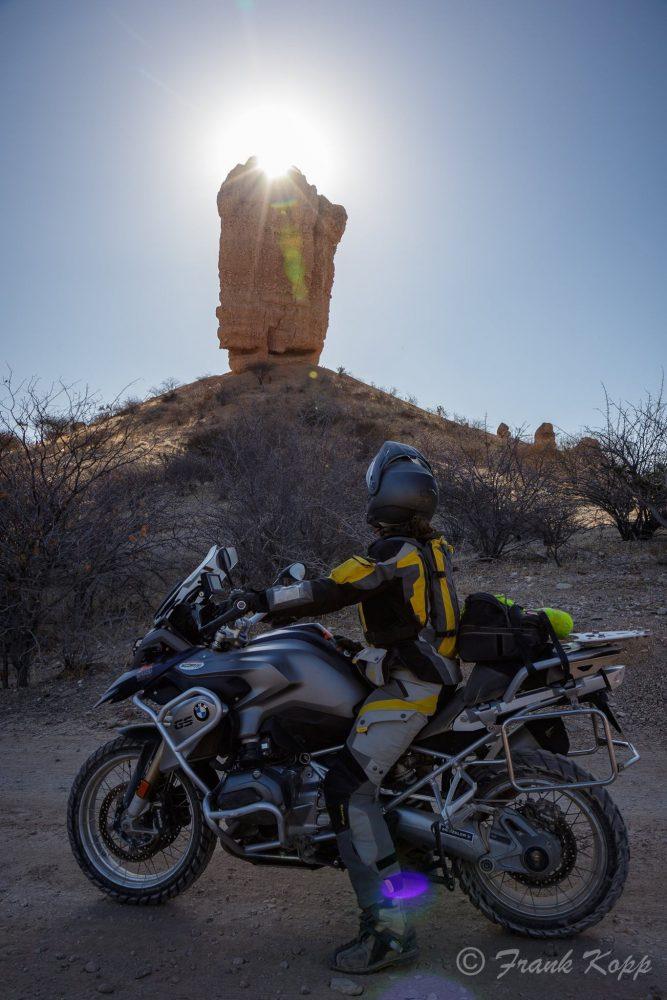 Riding with Charley Boorman
Riding with Charley can be described with 3 words: Love, Fun, Adventure. If you describe it with 5 words, I would add: Savannah Dry. Charley truly loves this part of the world and it shows in how he leads his travel group over the gravely  sandy roads, through the villages, across the desert.  Every day we were entertained with all his stories from travels and recording his TV-shows, and yes, there was the occasional mention of Ewan McGregor, sure. But we were here with Charley, THE Charley, and his personality is really just like you experience him on the TV shows: Pure adventurer to the bone.
And then we have the added bonus of Billy, who is also a prominent adventure rider, as can be seen in A Kurdish Movie, a great film about his travels in Kurdistan. Billy has the gift of the gab, no other way to describe it, and is also a certified wild life guide.
Every accommodation we went to was described as "quite simple", "pretty nice" or "nothing fancy" and I think it was just to allow us the experience of wonder and utter delight when we arrived at the most spectacular, quirky, cozy and special places they had in store for us during the trip. The Lodges were more beautiful for every stop, and it is truly something special when you walk out of your room in the morning to go to breakfast, and be greeted by a flock of warthogs staring you down straight outside your hotel room door. Or bunty bock. Or cheeky meerkat, who dig up the gardens and flock up on you to get to your leftovers at lunch. Beware of monkeys who have learned to steal your stuff and give it back to you in exchange for edible ransom.
At some point in time we did start to suspect that Charley and the Compass Expedition Crew had a hidden agenda to fatten us up during the trip, for whatever reasons we could only speculate, because the food was fantastic. I asked my local butcher when I arrived home if he could get some crocodile, oryx or kudu meat so that I could try to replicate some of the local dishes but, imagine that, no-go. I sigh inwardly and realize to get my game fix ever again, this means I will just have to go on this trip again, the south bound one. At dinner every night there were 2 things that were a sure thing: lovely local wines, and a briefing about the next day by Billy Ward. The logistics of the trip were the best we have ever had on a trip: you get your GPS with the routes so that you can travel at your own pace and find your own way safely. The briefing covered things to see, where to meet for lunch, photo ops and anything you needed to know about the difficulty of the road conditions, and ended with: breakfast at 7, leave at 8, guys! That usually made us sneakily look at our watches, just to decide that there is surely time for just one more drink before bedtime.
Riding these parts of the world is challenging in a special way. Some days were quite long, and true adventure is when you know there is no fuel for the next 400km, so you will either make it or you won't! We always made it. A lot of gravel, and a slow introduction to sand. The sandy bits got more challenging as the trip went on, as Billy would call them: Proper sand. He said that every time, emphasizing Proper. But it was always just a little bit easier to get through than we thought, or maybe we just got better and better every day?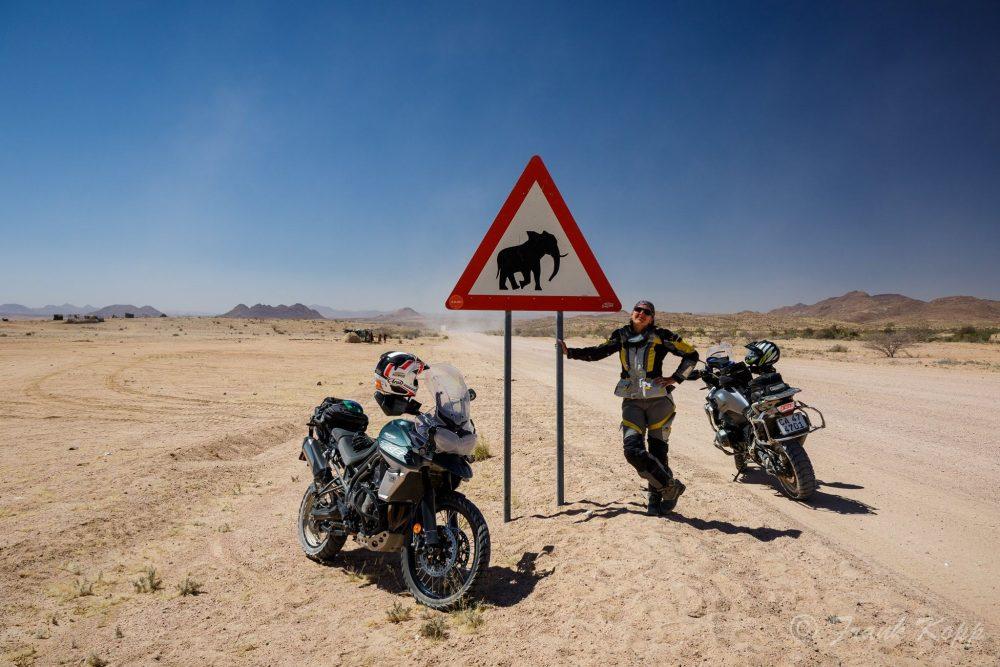 Riding sand is very peculiar. When you think you need to slow down because it starts feeling very wobbly and you are experiencing a tank slapper, you need to speed up. We had a long stretch of soft deep coarse sand before one of the hotels. I found a good rut and stayed perfectly in third gear, keeping the exact speed and keeping my eyes far ahead. My rut started to dwindle. I kept at it. It dwindled more. I started inperceptibly to slow down, until it was too late, and had to put my foot, and bike, down. The Husband was further ahead and we lost radio contact. As I was contemplating what my next step would be (Swear, cry, pray, get my phone out, or wait?) I saw a cloud coming closer from the opposite direction. Soon enough a jeep approached and an old man wheeled down the car window and looked from me, to my bike and back at me. One small woman, one big bike, in the desert on a sandy road. What an opportunity to be a knight on a white steed! He helped me pick the bike up, and wave cheerily when he drove away, I think I made his day and got him a story to tell back home. I got going, and another cloud approached rapidly. And beep, radio was back! The Husband hurrying along to see if I needed saving, and to tell me that the Hotel was only 500 meters on. Duh. I made it almost 10km on that road, and as providence usually has it, you fall just within reach of the end of the difficult road.
The roads are mostly wide gravel highways, with good views left and right to spot wild life. The feeling when you see giraffes crossing the road straight in front of you is indescribable. We have had our share of little falls and situations close to accidents in the past. It is decidedly cooler to explain that the reason you crashed was that because of a family of Kudu Antilope than, say, a tractor. Daddy Kudu crossed the road further ahead. We got all excited, wanting to see a bit more of him, and suddenly straight in front of us Mommy Kudu charged after him, and the Baby Kudu. They were directly in front of us, and Baby Kudu decided a split second before it would have been a close encounter to jerk and turn in the other direction. Close call!
The riding is as challenging as you decide you want it to be. It is good if you have had some offroad experience, and you learn a lot on the way. One of the greatest things I learned that I will benefit from as a rider is to find that sweet spot speed on bumpy gravel roads. Many stretches had corrugations, also known as washboarding. First time experiencing this,  it is very unfamiliar and very uncomfortable, physically and mentally. Big question marks like: HOW? How on earth am I going to get through this? WHY? Why on earth am I here riding this?  WHEN? When will this be over and will I be able to get around ever having to do it again? The trick is to throttle up slowly until the jackhammer feeling magically disappears, at about 80 km/h speed. The faster, the smoother, and then you get the hang of it and gain gravelloads of confidence!
Charley has been in Africa every year since Long Way Down, and has vast knowledge of the wild life, people and culture. Although there was a lot of riding time, there was still enough time over lunch, at dinner and in the safari jeeps to listen and learn. Charley keeps getting recognized in the most remote places, it is amazing how much he has impacted people across the world. They all say the same thing, I am traveling because of you. All the while we were all proud onlookers.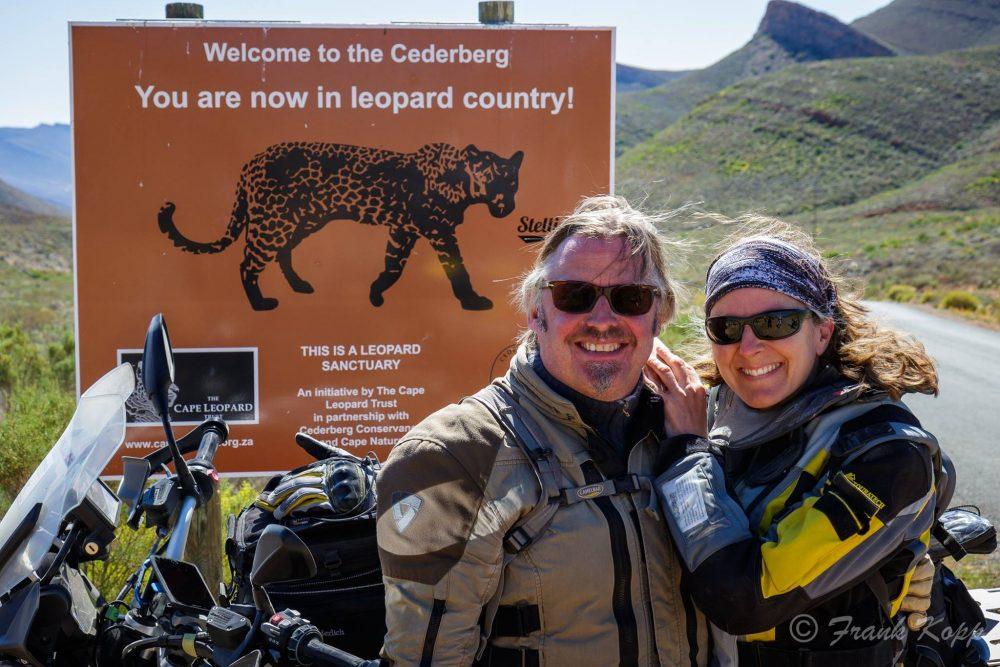 The scenery, the landscape, there is no better way to experience these countries. The beauty of Namibia is breathtaking, and with a motorbike you are so close to it all. Now, be prepared to wave. And smile. Everyone waves at you, and wave back – you make their day! Children try to run after you, smiling and waving, and it gets so natural to wave back. Interacting with the local peoples like the Herero and Himba tribes was an unforgettable experience, and imagine our surprise when Charley and Billy were cheerily greeted with: welcome back Mister Charley, welcome back Mister Billy. Been there, done that, they can proudly claim! So the whole trip brings you up close with the landscape, the people, and the wild life. Billy has the most fascinating way of making everyone around you feel good. By calling service personnel Boss, he made them feel good, which made them want to make us feel good. Never a harsh word or a situation that wasn't solved with smiles, nods and handshakes.
How did I feel? The vastness of the country, the long days riding, the possibility of an elephant in the bush on the side of the road, the heat, dust, and the glorious taste of a cold water when you finally arrive… Epic. What I liked the most: first of all, you lose sense of time. Those three weeks felt like a lifetime. Because all you have is today. You get the briefing in the evening, a short recap of the briefing in the morning at breakfast, and you ride on. No thinking about having to do this and that, obligations, and that calendar driven way we usually live our lives, makes you really let loose and just live, just ride.  Epic. Secondly, my husband and I have radio, and although we ride separate bikes, we feel very close all the time, connected in the experience of cruising through African countries under the African sun. Epic. And then, there is the sausage of course. Epic.
Just a few final words about the fun. Unbelievable how much we laughed. We had a great group of people, and the fun and laughter had no end. Riding with Charley and Billy feels like going around the world with old friends. The logistical frame was held together by the Compass Expeditions team, Mick and Sarah, who ensured a professional execution, everything went very smooth, but I am sure there were minor catastrophes behind the scenes that we didn't know about. Legendary. And I did get my sausages, Springbok Bratwurst, anyone?
Want to ride with Charley? Check out his adventure motorcycle tours in Africa!