The Washington Backcountry Discovery Route (WABDR): Breathtaking views, six days of challenging off road riding, camaraderie, and camping, is there anything else you could ask for in an off road trip?  Join me in this multipart exploration as I share my adventure!
In early July, six friends, my husband, our dog and I met at the Bridge of the Gods in Oregon to begin an adventure I've been wanting to complete since I acquired my first dual sport motorcycle – an off road ride through Washington State from the Oregon Border to the Canadian Border. Tingling with excitement and laughter, we took a group photo at this historic location, and began a journey that we did not yet know would be every bit of the adventure we craved, and more.  The WABDR is divided into six sections that you can conquer in as few as 24 hours or over the course of six days. We opted for the leisurely pace of drinking in the scenery, meeting up with other friends on the way, finding epic camp spots, and truly soaking in the experience.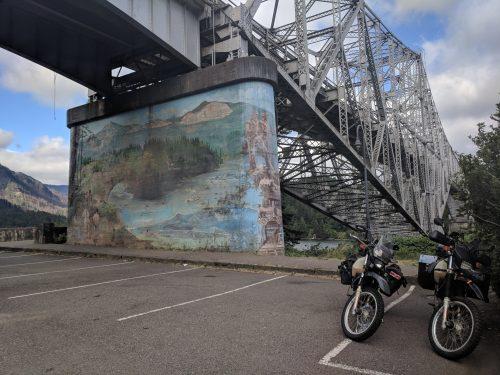 Section 1 of the WABDR is a great introduction to adventure riding for new folks.  It includes a number interesting geological stops such as the ice caves, natural bridges, and Lake Takhlakh.  The riding is mostly well maintained gravel roads, with some elevation change, some switchbacks, and a dozen ridiculous waterbars to cut your teeth on the adventure to come. But I am getting ahead of myself.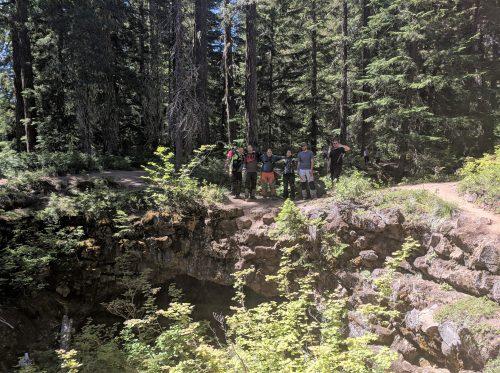 Crossing Bridge of the Gods begins the adventure for many people.  With it's grated surface, it sometimes raises the anxiety of two wheeled riders, but for some reason, I have always delighted in the breathtaking view of the Columbia River, leaning into the ever-present wind while my bike wanders it's way north.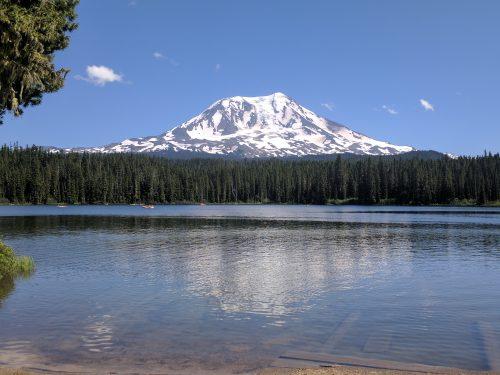 My husband in the lead and my friend in the rear, I wondered what the week ahead had in store.  We had five men, three women, and one dog. Most of us had been friends and ridden together over the last few years, but there was one new group member who had been vouched for as a solid fellow.  We had worked to invite people who 1) maintained their bikes, 2) had some experience adventure riding and would come prepared, and 3) had easy going personalities. Six days is a long time to spend with a group of people. Group composition is likely one of the most important parts of a successful ride.  Whether it is me, myself, and I, or I am traveling with my husband, or we put together a group of folks with intense wanderlust, there is a trust necessary when you are embarking on territory that is far from repair shops and medical care.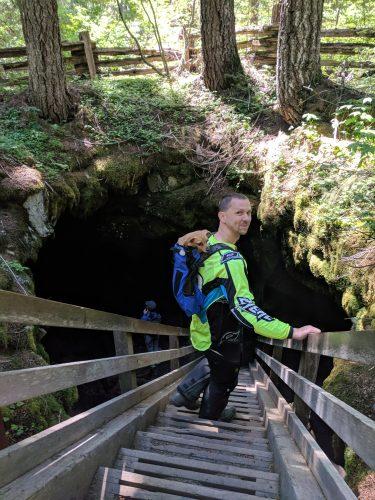 During day one, we rode at a leisurely pace and stopped at all of the points of interest.  This created our first group challenge – balancing the needs of folks who wanted to stop at engaging and relevant photo ops, and those who were in it for the riding.  Our fearless leader diffused these tensions with empathy and grace, and we were in good spirits arriving in Packwood. We found the came we'd stayed at last year gated off, so two scouting groups were formed to find good camping.  And did we ever score. There was a spot that was deemed as "pretty good" overlooking a river. We took the group up, and realized that there was a foot path down to the river to the most exquisite camping available – the sound of the rushing river, soft sand for the tents, and trees for the hammocks – everyone was thrilled. We gathered round the camp stoves and shared stories of our ride until one of our members nodded off.  Clearly, it was time for bed, as day two was just around the corner.

For even more fun reading about stopping thinking and just going, check out Lois Pryce's advice HERE!