Jody Ocker, a rider from Sunbury, Pennsylvania, is on an adventure of a lifetime: currently, she is riding with Charley Boorman across southern Africa.
Jody, how did you get into adventure riding?
I'm not married (tried it once, it didn't stick) and don't have any children.
I just retired from a 28-year career in the United States Air Force as a Nurse Corps Officer (Colonel).  During my time in the Air Force I had the opportunity to travel the world and I love to travel. I am a nurse, mostly emergency and trauma experience. Being on this trip is my retirement gift to myself.  In fact, a new interest in adventure riding is one of the reasons I decided to retire now instead of at 30 years!
I started riding 15 years ago. My first bike was a Harley Davidson Sportster 883 Custom.  I had always liked motorcycles. From the time I was 5 years old, my dad rode a big Harley.  I loved going for rides, "Dad, please take me for a motorcycle ride."  So of course when I decided to get one of my own, it had to be a Harley.  I took that bike to many places as the Air Force transferred me from base to base. It went with me to Misawa Japan, Washington DC, Terceira Island in the Azores, Montgomery Alabama, Hampton Virginia, and Sacramento California.  I discovered that having a motorcycle was a great way to meet people, discover places, and see sides to a culture you wouldn't necessarily see without it.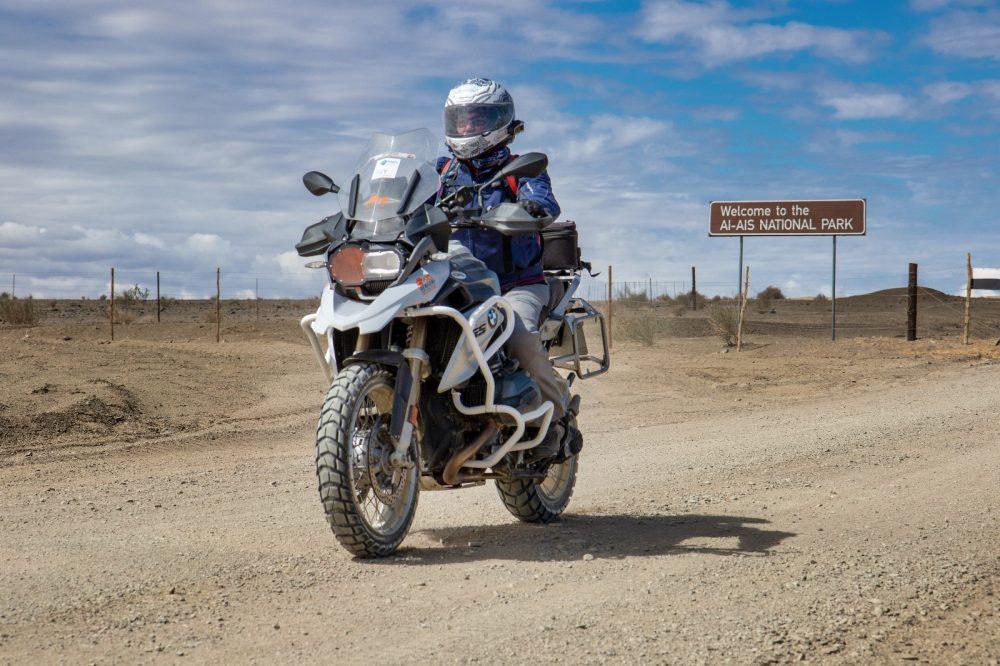 in 2014, when I was stationed at Beale Air Force Base in California, I discovered Long Way Round on Netflix.  I binged. Then I found Long Way Down. I binged. I was so excited by the sense of adventure!  I thought, "I would love to do that! I've never ridden off-road. I'm too old. I would love to do that!"  Then I started searching the internet to see if Ewan and Charley did any other rides. I came across Charley Boorman's website.  And there it was… a February 2015 trip with Charley Boorman in Morocco, with Moto Aventures.  My birthday is in February…to me it was a sign. So I booked it!
Never having ridden off road, never having ridden anything but my Sportster. I found an off-road academy in California and booked a class for January, one month before the trip. The class was not the best experience. I was on a BMW F800. It was too tall for me. It was my first experience in dirt and gravel. I was a bit overwhelmed. I did OK but I was worried I had made a huge mistake. But the Morocco trip was billed as all paved with off-road options. So I figured I would stick to the pavement…I knew how to ride on that!
The trip was amazing! I knew right away I had "found my people."  We had quite an adventure riding in a massive snowstorm in the Atlas Mountains. Snowed in at a hotel for two days until a mountain pass could be cleared. I rode in conditions and on surfaces I never would have tried before. Charley was a wonderful host. Being a big celebrity you might think he would be all about himself. But he's not. He's a very genuine person who genuinely loves riding and being with people who love to ride and have a little adventure. Billy Ward was also a lot of fun on the trip. Always making jokes and making sure everyone was having a fantastic time. I was hooked!  When I got back to California I broke up with Harley and bought a new BMW R1200GS. I also decided I wanted to retire sooner rather than later so I could do more of this while I'm still able…why wait?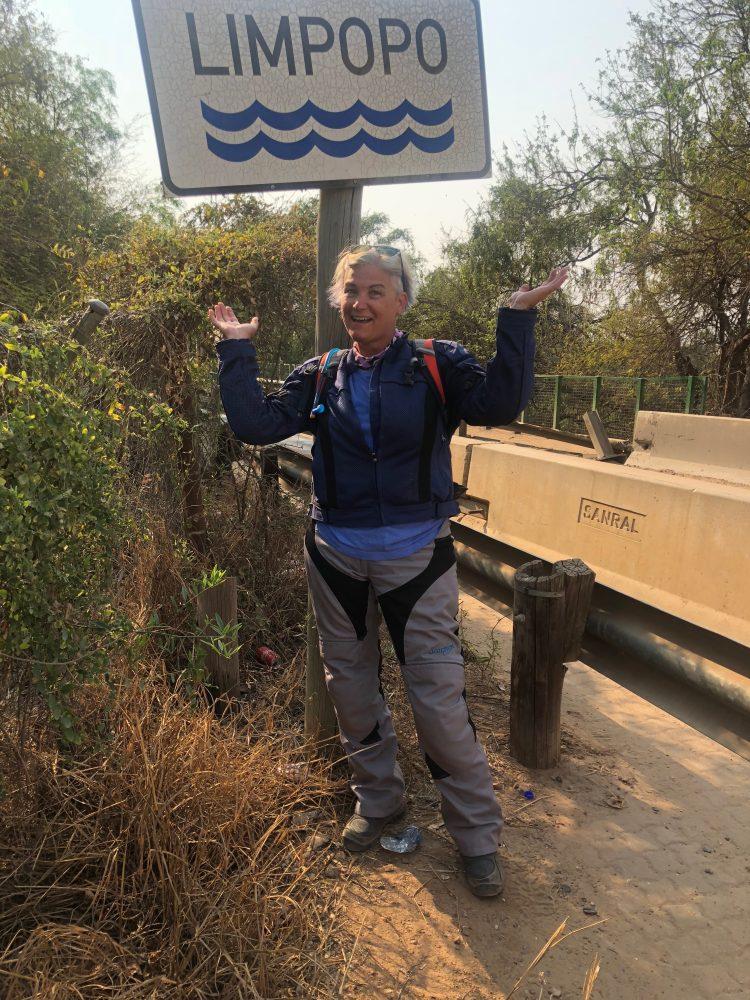 My next trip (2016) was with Compass Expeditions in Australia, Tasmania specifically. This was also supposed to be a Charley Boorman hosted trip but unfortunately Charley had that accident in Portugal and wasn't quite recovered enough to join us.  Billy stepped up and brought in friends of Charley's to meet us along the way. This trip was all paved but still on a 1200GS. Again the people were awesome and the trip was well organized and supported. I couldn't wait to do another one!
How did you end up in Africa?
Unfortunately the Air Force had one more deployment in store for me in 2017 just before I retired. So I couldn't go on any trips that year…however I was able to save enough money to book the trip I'm on now which is really two separate trips back-to-back: Cape Town to Victoria Falls, and Victoria Falls to Cape Town 2018 and again with Compass Expeditions. The two are very different so I'm glad I'm doing both. I really wanted to ride with Charley again especially since he wasn't able to make it to Tasmania in 2016.  He is fun to be around and he is a great adventure riding guide and mentor.  The trips he does are so well developed and supported. There's a good variety of pavement and gravel road conditions. We stay at interesting lodges some posh, some simple. Having our own GPS on the bike means we can ride our own ride and not have to stick together in one group. With Charley guiding the ride, Billy riding sweep, and Compass Expeditions providing support I feel very safe.  Well as safe as one can be riding out in the middle of nowhere where anything can happen!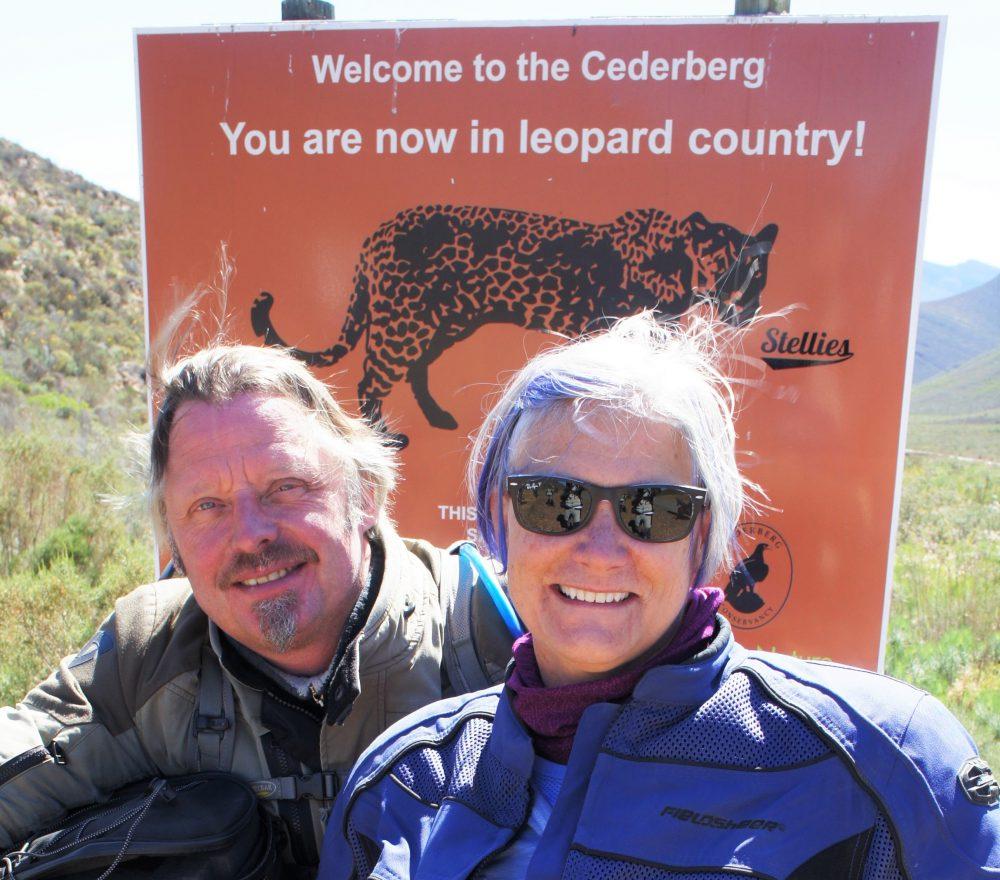 What's it like to be riding with Charley Boorman in Africa?
Riding in Africa is AMAZING!  The landscapes are ever-changing as we ride from day to day covering hundreds of kilometers a day, about 5000 kilometers over the 2 and a half weeks for each trip.  By then end I will have ridden about 10,000 kilometers in 6 weeks time! On a motorcycle you can be part of the environment you're in. You feel the atmosphere, the weather, the road, the smells, the sounds, the sights.  The riding itself has been quite a growth experience for me.  This trip is my first encounter with hundreds of kilometers of the unpaved roads: gravel, sand, rocks.  To be honest I felt quite anxious about the trip as the time drew near. I took another off-road class in June, on my own 1200GS. I managed the skills and roads well enough but it was still quite new to me. Was I going to be capable?  What if I can't do it? What if I have a crash? What if the other riders think I shouldn't be there at all? Well I just had to repress my doubts and go for it.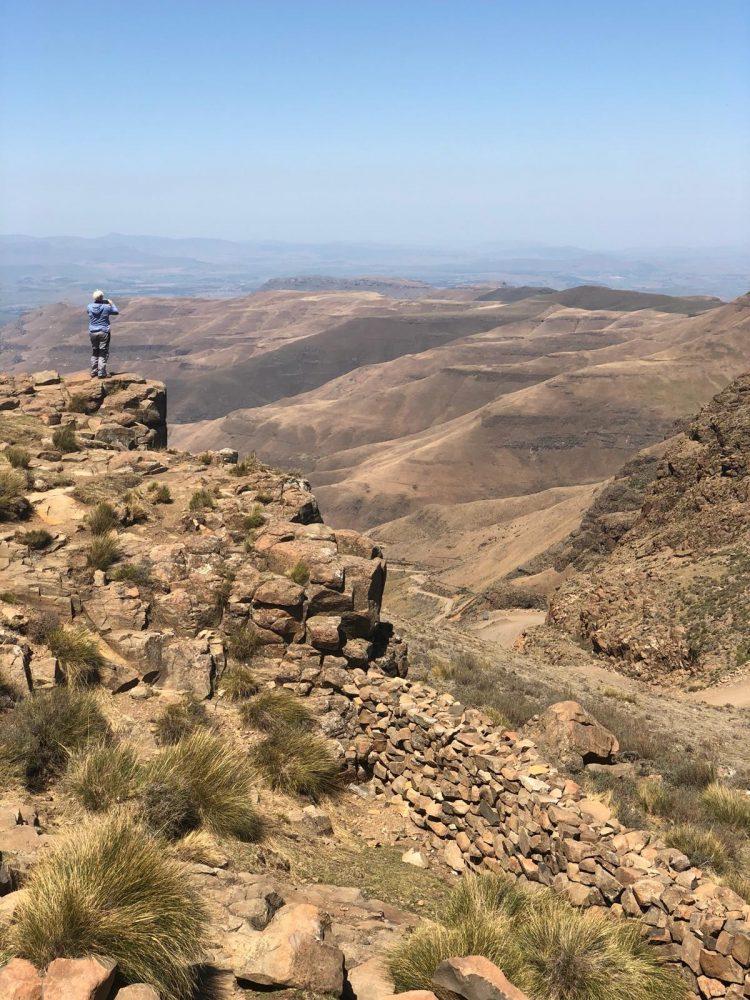 On the first day of gravel roads Billy stuck close by. I would ride for a bit and he would come up to me, stop at the side of the road and give me feedback and instruction on my riding. I was nervous and tense the whole day. My mouth was dry. Everything was new to me. But I was learning…A LOT. I got used to the feel of the bike moving underneath me. I got better at looking well ahead and picking my line. Each day I grew more confident. Charley was great at giving me encouragement and helpful advice all along the way. He would stop and say, "you're doing great, Jody. Now I want you to start thinking more about body position and using weight on the pegs to control the bike around the turns." He would keep reminding me to "look up, pick up a little speed to go over the corrugations, sit down on the not so difficult stuff or you'll just knacker yourself."  He couldn't have been more supportive. On one day the lodge we were staying at was at the end of a 2 km stretch of sandy track. I had encountered some sand before and survived so I wanted to try it. Charley agreed to follow me in. Well, the deep sand got the better of me that day and the bike did a little pirouette and I came off. Charley stopped and help me pick up the bike. I wasn't hurt. The bike was OK too. Charley of course saw the whole thing from behind me. He gave his analysis and helped me learn from it. I accept that I'm going to fall sometimes as a novice to this adventure riding thing and that falls are a part of learning especially as I meet more difficult challenges and seek to improve my skills. By the time I finished the upward trip, I think I had become a competent novice…able to handle good gravel roads, some ruts, some sand with confidence. And able to approach more challenging conditions with success…not pretty, but successfully.
Now let me tell you about Sani Pass. Riding down the famous Sani Pass occurs on the downward trip as we leave Lesotho and re-enter South Africa. I was dreading it because everything I've seen on the internet about it looks scary.  Charley and Billy talked to the group about the technique for getting down the first, steepest, twistiest bits: first gear, feather the front brake, easy on the back break, just let the bike roll over the rocks, pick good lines, controlled speed all the way.  Simple right?  We arrive to the top from the Lesotho side and all of that road is paved. We stopped at a pub there at the top where there was a great view of the unpaved, dirt, gravel, rock-infested, rutted, switch-backed descent to South Africa.  I was nauseous. It looked much worse than I had imagined.  As we were sitting there having a rest before leaving Lesotho, Charley started talking to me, giving me encouragement…he must have been reading my face.  It was time to give it a go.  The initial descent to the first turn was horrendous…all rocks the size of skulls. I was doing what they said, first gear, head up, using the  front break to control speed…the bike was bouncing all over the place. I felt so out of control. I made it to the first turn and stopped.  In my head I'm screaming I don't want to do this. I'm terrified. Charley stopped with me, gave encouragement, pointed out the next section, the good line around the next turn. He coaxed me into going just a bit further "see that place there? Let's get to there and we'll talk again, look at options."  I dropped my bike in the next section after bouncing over rocks, i tried to stop to get back in control and me and the bike went down.  My legs were shaking but I got back on and tried again. I went a bit further, but dropped the bike again.  At that point I lost my mental resolve. I nearly cried. I wanted to quit. We decided that Billy would ride my bike a few hundred meters down to where the pass is a little less steep and I would walk down to it. The walk did me some good. I got my head straight again and by the time I reached my bike I was ready to get back on and keep trying.  Charley stayed with me the whole time. He lead the way and I followed his line.
In all, I dropped my bike three times on Sani Pass.  Each time Charley was there to help  pick it up and give me encouragement, coaxing me to keep going, coaching me on technique. He rode my bike some short distances over the "snottiest" parts, then walked back to his while I walked down to mine, and we would start again. I apologized that I was taking up so much of his time, that he had to keep walking back up the hill…but he said he was happy to be doing it. As we went on, I was getting better at applying what Charley had been telling me. I successfully rode through snotty sections that had terrified me at first. At the bottom of the pass we stopped at the entry point to South Africa…all smiles!  That evening at the lodge, Charley said how happy he was to be part of my adventure that day. It's something he genuinely enjoys to see people having their adventure, doing something they never thought they could. The Sani Pass experience is the highlight of the entire trip for me. I was terrified, I faced the terror, I got back on the bike every time, and I kept going. Charley is an integral part of my adventure experience. He is the adventure riding "sensei" to my "grasshopper."
Charley has said to me that he would like to see more women get into adventure riding. On the upward trip there were two female riders in addition to me. They and there respective husbands enjoy adventure riding together. It was good for me to have other women riders on the trip…I think it made the group more balanced.  On the downward trip, I'm the only female rider. This doesn't intimidate me at all…it's just a different feel to the group!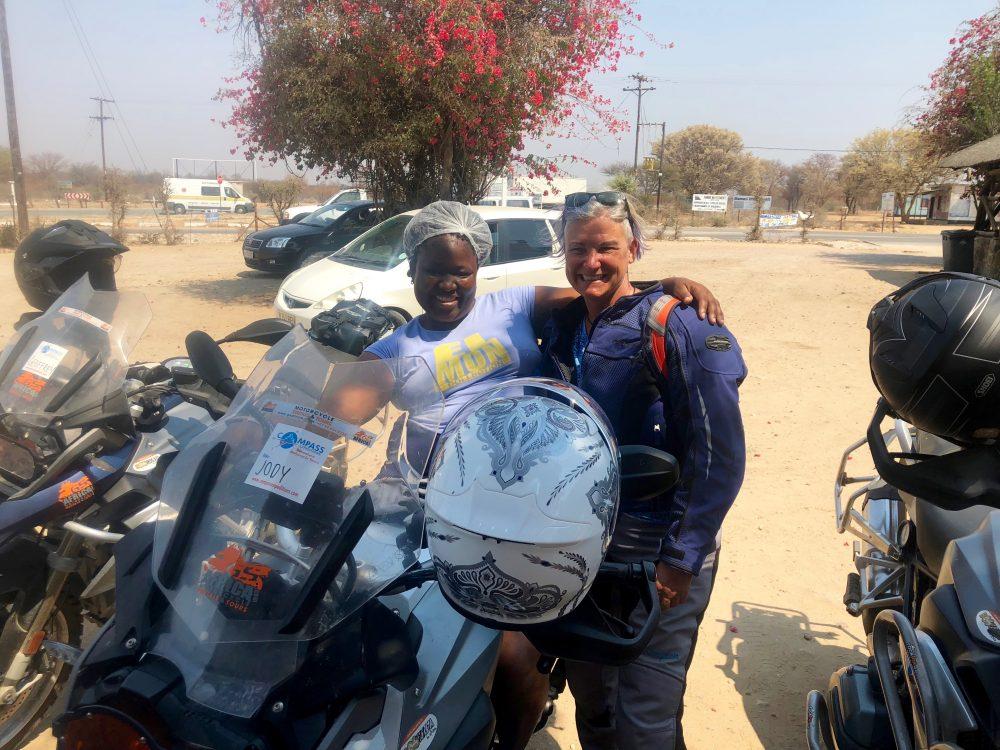 My experiences on these trips have been so important to me. Some of that has to do with conquering fears, pushing my own limits to do more than I thought I could. Some of that has to do with meeting like-minded people and bonds of friendship that begin with a shared adventure experience. I am still friends with the woman I roomed with on my first trip in Morocco. She lives in North Carolina and we have been able to ride together a few times since then. I stay connected with people I've met on these trips through Facebook. I get to see what other adventures they are having.
I think the same sense of adventure that led me to join the Air Force as nurse (instead of staying home working at the local hospital) is what made adventure riding so appealing to me. When I saw it the first time, I knew it was something I wanted to do.  There's a similar sense of camaraderie, facing and overcoming challenges, achieving more than you thought you could, working together to get through the snottiest bits.
And now that I'm retired, I can go on any trips I want, whenever I want. Life is good!