BY EGLE GERULAITYTE
Riding mostly dirt daily, spending a lot of time in the sun, and wild-camping often is taking a toll on my skin. So what are the best motorcycle helmet skincare tips out there?
I never paid much attention to my skin because it mostly just did it's own thing without any additional help from me. But after my 30th birthday, and after making a decision to live on the road permanently, I started noticing changes on my face. Nothing major: a new wrinkle here and there, dryness after baking in the sun all day long, and sensitiveness after riding hot. Wrinkles add character, and changes in temperature can't really be avoided, but it just feels like my skin is telling me: hey there, I need a little help.
I decided to listen, and to call for the collective expertise of other women adventure riders out there. This is what the communal wisdom of women riders across the globe had to offer:
Helmet Skincare: Keep It Clean
Keeping your face clean is the best thing you can do about your skincare. But when you ride all day long, every day, extensive SPA rituals on the roadside just aren't practical. Most women adventure riders need something quick, easy, and effective, and this is what most adventuresses recommend:
Purequosa "shower in a bottle". I personally have become pretty much addicted to Purequosa because, well, it IS that good. It's an all-natural spray that instantly cleanses and refreshes your face (or any other parts that need refreshing, for that matter), so I always keep a small bottle handy in my tank bag. The "miracle" ingredient in Purequosa's mist is colloidal silver: it cleanses your skin by depriving bacteria of oxygen, which means you don't just feel clean – you are clean. Instantly. Purequosa comes in three different scents – Rain, Ocean and Forest. My personal favorite is Rain.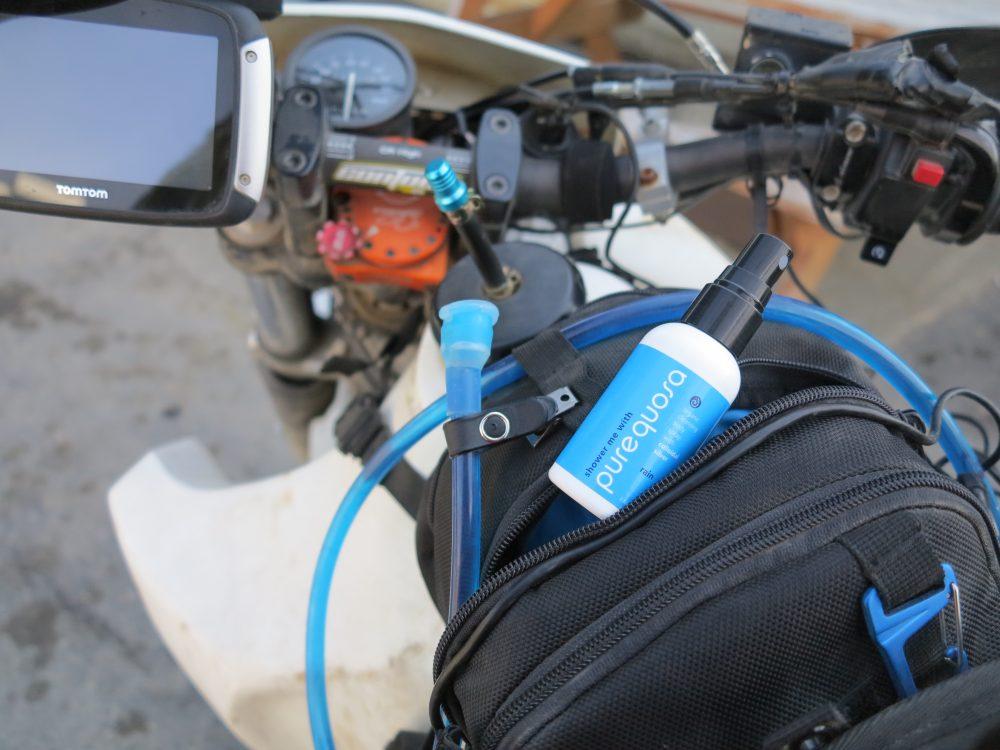 Baby wipes. This is a cheaper option, and baby wipes are usually widely available pretty much anywhere in the world. for those with sensitive skin, or those who prefer natural, organic stuff  with zero parabens and other creepy chemical stuff, check out Pure & Sure!
Micellar water. Dermatologists swear by this stuff, and a medium-sized bottle will last you at least a month. Before discovering Purequosa, BioDerma Micellar Water was my #1 go-to for clean skin. Don't want the micellar water+ cotton balls mess? Just get the BioDerma Micellar Wipes; they're biodegradable so you don't have to worry about waste!
Want to go seriously green and cost-free? Carry a damp cotton washcloth in a ziploc bag and simply wipe your face with it every time you stop. Don't forget to rinse it out as often as you can!
Protect Your Skin
Now that we've got cleansing covered, it's time to think about protection. Prevention is always better than cure! Here's what you can do to protect your skin from road grime, dust, and sun:
use a neck buff or a bandana. It takes a while to get used to, but your skin will thank you! Most women adventure riders recommend a merino wool neck buff to both protect your skin and wick sweat away. Check out this eco-friendly merino wool buff – 100% merino, sourced from happy sheep!
wear sunscreen and don't forget to re-apply when you stop for a break. Top tip: get a sweat-proof sunscreen to prevent it getting into your eyes! Hate sunscreen and want something ultra-light with a little bit of coverage? This mineral sunscreen powder could be the answer.
wear goggles or over-sized aviator-style sunglasses for extra protection.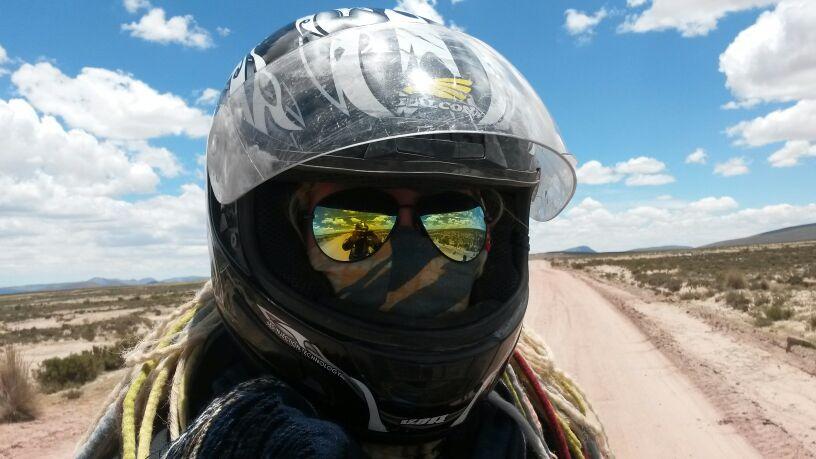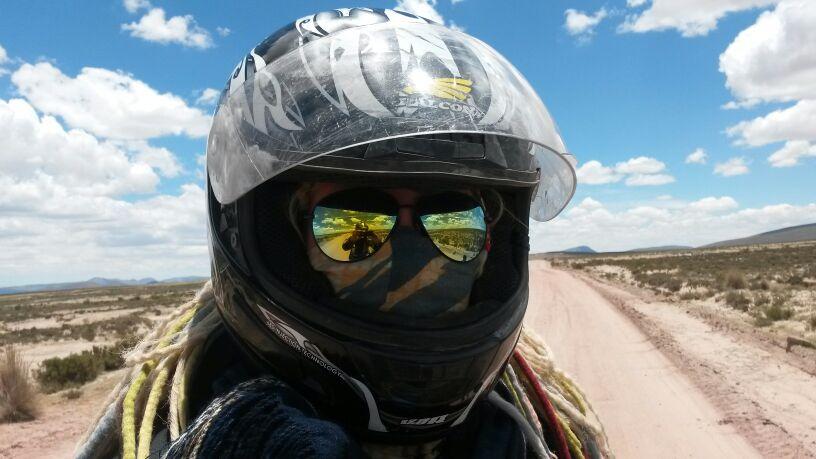 Hydrate
Your face is clean and protected – now you need to moisturize, and with hundreds of different choices, it can be hard to decide what works best. On top of that, everyone's skin is different, so I'll just stick with simple and affordable options that worked for me and other women riders out there:
I have mixed type skin and I hate heavy, thick face creams, so I opt for ultralight, gel-like moisturizers that feel weightless. Clinique Moisture Surge Thirst Relief has been my savior moisturizer in dry desert regions this summer!
road grime and dust can increase the blackhead population, so choose a non-comedigenic moisturizer that will help keep your pores clean. This sulfate and paraben-free Exposed Skin gel with green tea extract and vitamin E does the job pretty well.
want a 100% natural and cost-effective option? Lots of women swear by coconut oil – just make sure it's 100% virgin, organic coconut oil, not the fractured/hydrogenated type. Coconut oil can be used for face, hands, hair, cooking, and supplementing – it's probably the most versatile natural source of goodness there is!
 Boost from Within
However fancy, expensive or advanced skincare regime you have, if you're not driking enough water and your diet consists of junk foods and gas station snacks, your skin will suffer. So make sure you:
hydrate. A lot. I carry a hydrapack and sip water throughout the day; on hot days, I stuff it with ice for added coolness and if I'm riding in extremely hot, arid regions, I'll add a few drops of LyteShow electrolytes (Gatorade and similar electrolyte drinks are too full of sugar and preservatives for my taste).
add a table spoon of coconut oil to your diet – healthy fats help keep your skin supple!
ditch processed foods, excess carbs, and sugar. Eating natural on the road isn't easy – but it's definitely doable! Check out my Paleo On The Road article; if you're a vegetarian, Elisa has some great advice.
What is your helmet skincare regime on the road? Share your tips in the comments below!