BY EGLE GERULAITYTE
Upon hearing 'Chinese' and 'motorcycle' in one sentence, most people consider it sacrilege, throw their hands up in horror and refuse to reason. A small bike is considered an OK choice; but a small Chinese bike..?
A lot of folks on ADV Rider admitted they wouldn't ride a Chinese bike as far as the grocery store, let alone to another country. Most of my motorcycling friends back home said I'd gone nuts choosing a Zongshen 150cc as my ride.
We all know the typical image of an ADV rider too well: a middle-aged man, clad in the newest protective snowsuit that costs more than three months worth of mojitos and fuel in Ecuador, is charging around the world on his brand new European or Japanese behemoth of a bike.
But what happens if you want to ride around the world, or set out on a long overland journey, yet can't afford the shiniest, biggest ADV bike?
You get Blinkin. 
Back to the Beginning
Back in 2013, I'd never ridden a motorcycle. Backpacking and volunteering around Peru, I met a few overlanders on motorcycles and decided that two wheels were just too awesome to be left untried. So one beautiful day in Nazca, with the help of Ryan, an American motorcyclist exploring Peru on his 250cc bike, I learned to ride. The next day, we went to a local washing machine shop (they also had microwave ovens, blenders, TVs and – lo and behold – five motorcycles). Ryan advised I get at least a 250cc bike, but because the magic and the lure of cubic centimeter algorithms completely eluded me back then, and because I wanted a blue bike, I got Blinkin, the only blue pony in the whole shop. Blinkin happened to be a 150cc.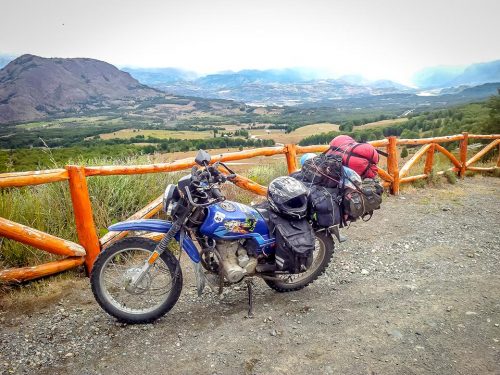 I called the bike Blinkin because I'm a big fan of the movie 'Men in Tights', and the original brand name – Zongshen – just didn't do it for me.
The following day, I packed my newly purchased motorcycle and set off.
The bike cost 4,000 Peruvian soles – just under $1,200. Because I sold it after the trip and got $170 back, the total cost of the bike turned out to be $1,030.
On the Road
As a newly minted motorcyclist, I had no clue whether Blinkin's performance was as outstanding as I thought: I had nothing to compare it against. To me, it felt absolutely amazing, though – I was on the road, on my own, riding a motorcycle! Life couldn't have been better.
Blinkin's top speed was around 55 miles per hour, although it would sometimes do an outrageous 62mph if it was downhill and with the wind. I struggled in the mountains, as Blinkin would only manage second gear going up. The brakes weren't exactly excellent, so I simply learned to adjust my braking distance accordingly. At altitudes of over 6,500 feet, Blinkin would start to hiccup and lose power – this meant that I would have to adjust the carburetor a little (the procedure included tightening one little screw, then loosening it once back at sea level). Other than that, though, I felt that Blinkin was a perfectly capable steed, worthy of thousands of miles of adventure across South America.
The Good, the Bad, and the Inevitable
Blinkin's type of motorcycle is one of the most popular in South American countries and it was absolutely smashing in terms of costs: the standard tires that came with it held for 7,000 miles, with local mechanics always able to find a second hand one in their garages. In fact, just about anybody was able to fix Blinkin – including random yet absolutely awesome local people in Chile, for example, who'd shelter and feed me as well as patch whatever needed patching up on my bike.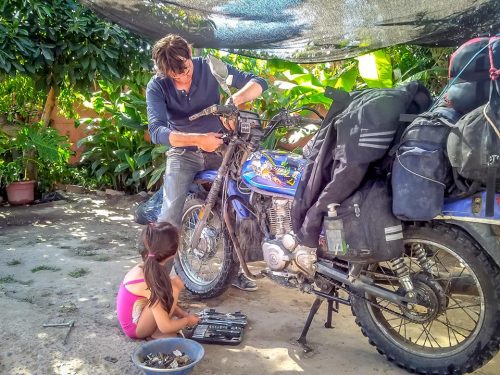 I bought a new chain somewhere in Patagonia for 200 Argentinean pesos (about $12). After riding a lot of corrugated dirt tracks and desert paths in Southern Bolivia, the exhaust and the luggage rack had to be welded back together a few times, which cost me around $10 or less a pop. I had also lost my license plate somewhere around Tupiza, and replaced it with a blue Monster sticker ($0.30). Result? The total cost of maintenance and parts in fifteen months of hard riding, including oil changes: $107.30.
Blinkin was also indestructible—or rather, very simple and thus extremely resilient. As a very inexperienced motorcyclist, I crashed multiple times, and once even managed to fall off a bridge into the river below. Blinkin was fully submerged for a good half a minute before I dragged it up and out of the water, but it started right back up and there was never a problem afterward – except for water and weeds in the headlight and squeaky swing arm noises for a few days.
The only thing that really upset me was the inevitable sale of poor Blinkin at the end of my journey: shipping it back to Europe would have been completely unreasonable—the bike was worth half the shipping cost. And so with a heavy heart, I said goodbye to Blinkin the Valiant in La Paz, Bolivia. I've no doubt that it's still well and alive today, carrying his new owner around town.
Bottom line?
Blinkin was far from perfect. It was too small and too slow for a fifteen-month, 28,000-mile journey across Peru, Bolivia, Argentina, Chile and back to Bolivia. The narrow seat didn't help matters much when I had to make distance, and the gale force winds in Patagonia were blowing me off the road like a confused little leaf. But, at the total cost of $1,070 for the bike and $107.30 for parts and maintenance, Blinkin did the job extremely well.
I had a blast, and I wouldn't change the experience for the whole world.
Am I going to get a small Chinese bike for my next adventure? Unlikely. But, if that were my only option, one thing is for sure: I would much rather be riding around Africa on a little no-name motorcycle and having an epic adventure than sitting at home and feeling blue because I can't afford the newest, shiniest, 'proper' adventure bike.