BY KRIS FANT
There is a debate about working on your bike vs. taking it to the shop that is at least as old as "Zen and The Art of Motorcycle Maintenance," I'd guess much older. As a non-mechanic, I'd like to share my perspective on why I work on my bike.
The background
Six years ago, I hadn't a clue what was under the hood of my car, and my exposure to motorcycles was just my lifelong dream to ride one. I didn't even know the difference between a socket and a wrench, and drills more or less gave me anxiety. Enter an amazing man who was the opposite on that front; from the time he was born, he'd tried to figure out how things worked. His introduction of suck, squeeze, bang blow mesmerized me. I started hanging out in the garage, observing, asking questions, and slowly learning. At first, I'd watch, then I'd assist on an easy job, and then I'd try it on my own. After 5 years of tinkering at varying levels, I'd consider myself a pretty good assistant, and occasionally independent mechanic. I've gotten there with a deep desire to learn and the stubbornness to push through the lack of natural ability and early exposure. So, why work on your bike? Perhaps one of these will resonate with you.
The meditative experience
From my first experience lying under a car with my husband, I was hooked on oil changes.  Watching the oil flow out, starting out as a stream and slowing to a drizzle brought me peace and calm.  Pulling a spark plug, and putting in a brand new shiny one that I had just personally gapped made me feel like I was shining my bike from the inside out.  Like I need to breathe, my bike needs to breathe.  Tending to the air filter is engaging in meditation together.  There is a focus necessary for removing pieces from the bike that will all need to go together later.  This becomes an active meditation for my mind.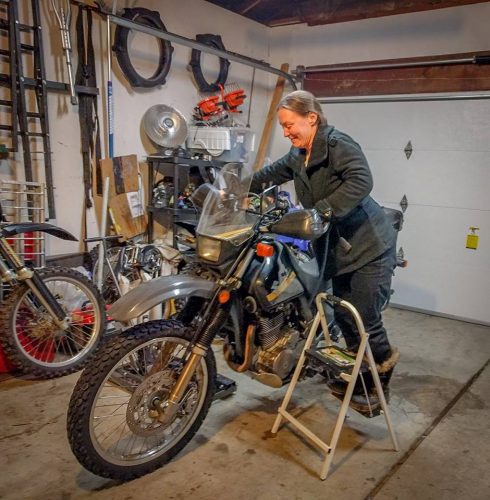 Time with my husband
Because my husband wants to know every part of every bike and how it works, we have an endless parade of friends bikes come through the garage so he can learn how to do something new.  That plus our own five bike stable keeps him busy in the garage.  By learning, I got to spend extra time with him that I wouldn't have otherwise had. Now, it's not unusual to find me out in the garage with my bike in pieces, 90% confident I can get it back together.  And we bond when he pops out for a minute to answer my questions, coach a new skill, or check something I'm unsure about.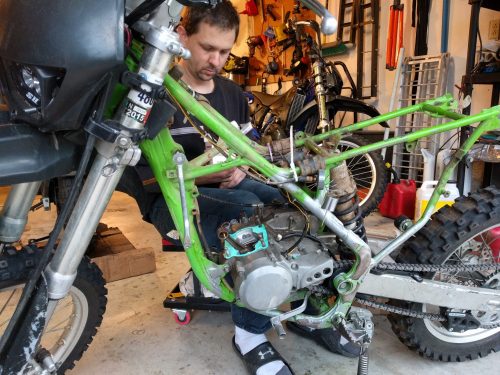 Becoming a better rider
By understanding how the bike works, I have been able to improve my riding skills.  Seeing, touching, and installing clutch plates helped me to truly understand what it means to slip the clutch.  Seeing the suspension in pieces helped me to understand how the springs and fork oil work together to keep my front tire planted on the ground.
Financial savings
I would be remiss if I didn't mention the financial savings; most motorcycle parts are inexpensive, but having the knowledge and the know-how is why we pay the experts.  I do not want to undervalue the time a motorcycle mechanic has taken to learn; while motorcycles are simple to work on, the troubleshooting process is complex.  What may take an experienced mechanic a couple of hours might take me a week.  My first independent oil change, a 30-minute job, probably took me three hours (but I was photographing the entire process because I was so excited.)  My ballpark estimate for a motorcycle oil change and basic service is usually $150-400, depending on the bike and the mechanic.  Doing it on my own, the oil, tools, and parts may cost $50.  For some people, that is worth the 2-6 hours of time they would need to spend learning and then completing the service.  Because working on the bikes is something I truly enjoy, and get to do with my partner, I'd rather plan a weekend of tinkering and test riding (because test riding is a bonus of working on the bike) and put the money saved toward our next adventure.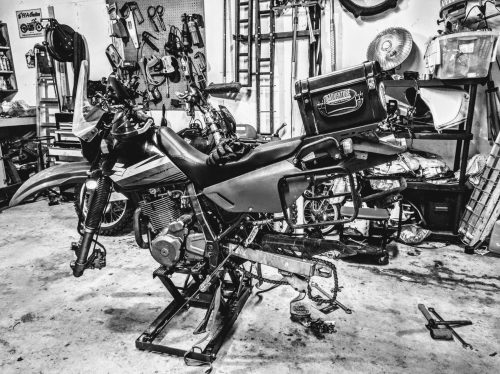 The bond
The most meaningful reason I work on my bikes is that it helps me develop a bond. I am a people person, a counselor by trade. I understand how people work, and am endlessly fascinated by them. By taking my bike apart and putting it back together, I have become sensitive to her communication, I have learned to check on her basic needs, and I have developed a trust that because I care for her so tenderly, she will carry me safely through my travels.