BY ÅSA ÖHQVIST
Intro by Elisa Wirkala
After 6 months riding through a dozen countries, I felt weak and exhausted. I knew the muscles I'd once earned from long-distance trekking and climbing were slowly deteriorating, to be replaced with shoulder and neck pain from battling the severe Patagonian winds and insane Latin American traffic. I was only 30 years old, but was afraid that my newfound passion for overland motorcycling would mean the end of a strong, healthy body. An old back injury was flaring up as core muscles dwindled, and I felt too tired to do my old exercise circuits. But the longer I held off regular exercise, the worse I felt- both mentally and physically. 
I've recently spent some time off the bike to hike across New Zealand and get back into good shape. But with the next big overland trip looming, I felt afraid I'd once again lose the muscle and fitness that's done my body- and my mind- so much good. But this time, instead of just pushing those thoughts aside on a fast rolling mission to muscle and cardio atrophy, I turned to runner Åsa Öhqvist, an athlete, marathon runner and keen motorcyclists, for her help in keeping strong and fit while on the road.  
We all know how hard it is to stay fit and strong during holidays and while traveling, and many people haven't considered the benefits of incorporating a good exercise routine into their riding. And while motorcycling can certainly build a few muscle groups and teach you to endure pain and discomfort, it doesn't do much towards building a good cardio foundation, which is so important to our overall health and wellbeing.
Want to stay active and add a new dimension to your rides? Try bringing your running shoes along on your next adventure!
A New Perspective
While maintaining or improving your physical strength, running can also add to your travel experience. I am a keen rider and runner who happily combines both during my travels and have been doing so for quite a few years. Running loosens up the muscle tensions after a day's ride and, in contrast to riding, I can let my mind wander freely without having to concentrate much at all. Running is also a great way of sightseeing and it gives the opportunity to have a look around in a slower pace than from the bike. And, perhaps the best thing of all, when running, you blend in and are more often seen as a local than a traveller, which gives a feeling of inclusion.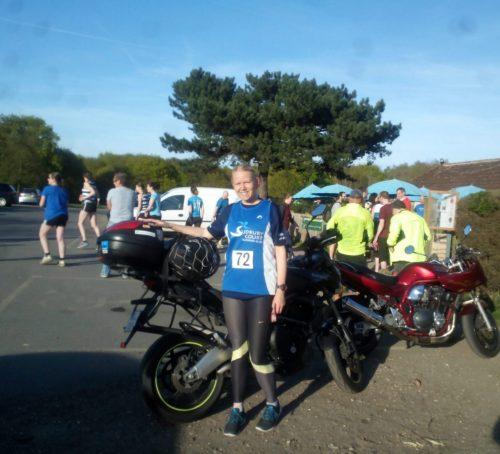 If you're already a runner my advice is simply to take your kit with you on your next journey. But if you are new to running, it is preferable to establish a routine at home first. Contrary to what many think, it can be harder to initiate a new training routine while on holiday than fitting it in your everyday schedule at home. Build up your routine and your stamina, once you're used to running regularly, make it part of your life, then take your running outside your everyday routine.
Gear
The range of clothes, gadgets and other accessories are endless, but if you want to keep it to a minimum – if you're camping and have limited space for example – just invest in shoes and a sports bra. There are as many opinions on shoes as there are runners so the only advice I'll give is that your shoes should be comfortable and preferably only used for running (since walking uses the foot differently and will therefore wear the shoe differently). If you would like something to measure the distance of your run or your speed, there are plenty of apps for your phone that can do this, or a cheap GPS watch will suffice. Personally, I find it very rewarding to be able to see how far I've been running and, in addition, at what pace. This can be useful after a day on the bike, when your sense of speed is somewhat affected by your riding pace and your brain might perceive your running as very slow, despite you pushing your hardest to speed up. Also, most apps and GPS watches have a function where you can upload your route and see a map of where you have been running. I find this feature enjoyable and it has led to a collection of runs made all over the world, a rather different type of souvenir.
Healthy Habits
Apart from keeping you fit, running will inevitably make you pay more attention to your eating and drinking habits. Depending on your personality and habits, healthy eating can easily become neglected while travelling. Fast food is readily available while healthy food might take a bit more effort, or perhaps you forget to eat altogether. When I took up long distance running, I learned a lot about my body's metabolism and learned to supply energy to maintain my stamina. Now, if I go for a two-hour run, I bring water and something to snack at regular intervals to prevent sudden blood sugar dips. I apply this knowledge to my long-distance riding, to keep up my energy levels and my concentration, and this has proved useful especially in tough riding conditions and extreme weather. When you are combining riding and running, you need to eat and drink healthily during your ride to have energy for a run at the end of the day. It is a win-win situation for your health. Running will not only keep you fit, but will aid your riding as well.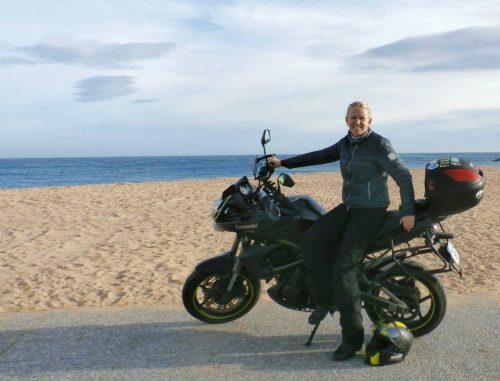 Some Words of Advice
Don't get lost. If you don't know the area, bring a map, some water and a snack (I always bring dextrose tablets). Don't risk running out of energy and getting too tired to make it back, and always make sure you're running through a safe place.
Think about the consequences. While running in the rain can be amazingly refreshing and uplifting, on the road you always need to think about how to get dry and warm afterwards. If you have access to a hot shower and dry clothes to get warm after your run, go for it. On the other hand, if you can't find a way to get dry and warm, then getting soaked while running just isn't worth the risks.
Be wary of pain. As a motorcyclist, you might be used to pushing through pain and therefore, your pain tolerance is likely to be higher than others. This needs to be taken into account when running. If you start experiencing a niggle of pain, reflect on the possible causes and don't continue running if it persists. Be kind to yourself- running is supposed to make you feel better. For recurring pain, seek professional advice.
I have made all of the above mistakes, sometimes more than once, so I know that it is difficult to be proactive at times. But once you've chosen to incorporate running into your long rides, you'll never look back. Running and riding are a perfect combination for the adventurous woman!
Click: Read more on running and riding from Åsa.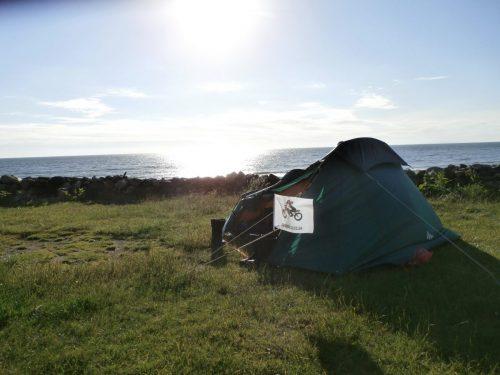 Photo credits to Christopher Calvert and Åsa Öhqvist