BY LOW-RYDA
Have you ever done a slow race using only your throttle?  Have you ever walked all the way around your bike, chatting with a mate, just holding the bike gently with one hand while moving?
How about used teamwork to pick up your dropped motorcycle monkey-style?  You can do all this and more in a PSSOR Off Road Training Day!
PSSOR Adventure Basics Review

As part of March Moto Madness, PSSOR offered a four-hour training to adventure riders. Students rode everything from a Husqvarna FX 350 to a BMW R 1200 GS. This was a mixed-gender class of multiple experience levels.  Our teacher was Chet Mainwaring Sr., and the class was held as a preparation for March Moto Madness PNW, part of an annual event that is sponsored by GS Giants around the world.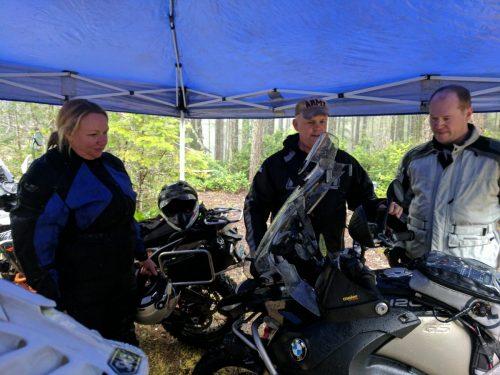 The first exercise was about finding out how little effort it takes to keep a bike upright if it is balanced.  We chatted and got to know our classmates while walking around the bike, gently holding any available part of our bike.  The anxiety level slowly dropped, and the lesson sunk in. There was a fantastic discussion about how much of riding is physical and how much is mental.  What are your thoughts?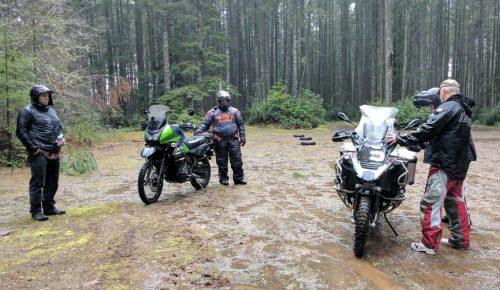 We then started with some slow races, experimenting with the different controls on our bike, as well as sitting vs. standing riding position.  This really helped all of us improve our clutch control, managing our rear tire traction and balance, while riding in the every growing mud pile caused by the rainy day.  
Next, we simply rode our motorcycles around in a circle.  While there was no specific instruction, I could feel the watchful eye of the instructor getting a sense of how his students were doing today.  When a motorcycle fell over, 1) we learned this happens because motorcycles get tired too, 2) there was a rule: no picking up a bike without getting an outstanding photo, and 3) we learned to pick up a bike Monkey Style.  So much fun, but you'll have to take the class if you want to learn how.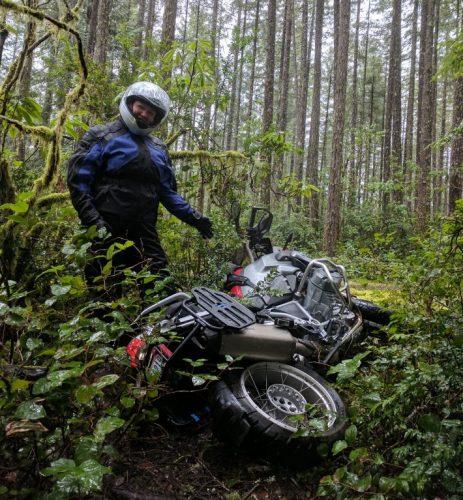 Chet walked us through sitting and standing turns. First, allowing us to try what came naturally, then slowly building in the skills to make it more effective.  We also learned how to get over obstacles putting forth the least amount of effort. The final test was to ride through a challenge course set up for the weekend: up a small hill, over some roots, sharp left, through a few creeks, and out the other end.  A few of us even got to practice our monkey moves, helping each other get our bikes out of the bushes.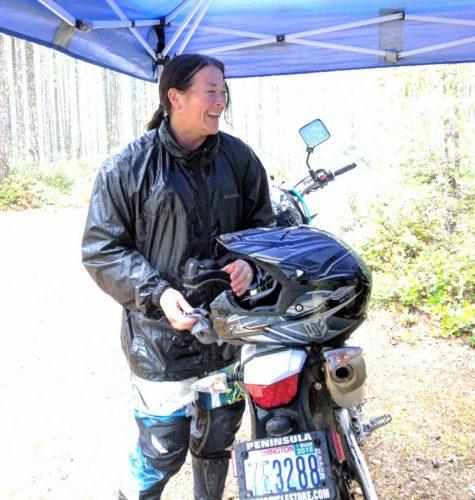 Interview with Bret Tkacs, PSSOR
Low-Ryda: How is training helpful for adventure riders?
Bret: Many riders successfully travel the world that are self-taught. But having the proper training and knowledge before an adventure, whether it's a weekend in the mountains or years traveling the globe can reduce the risk of injury and broken gear and open up opportunities by accessing places that would otherwise be too difficult to reach or cause you to turn and look for a detour. I have been witness to many riders who have been stranded or injured in what I would consider non-threatening riding conditions because of their lack of training and skills. Sand, gravel, water and mud are realities of ADV riding and should not be threatening.

LR: What is your philosophy of teaching?
Bret: Riders need to spend time doing hands on and on-bike training, and it needs to be fun. Humor and smiles help increase learning retention and lower fear. After all, none of us are required to ride. We choose to ride, so learning needs to be enjoyable too. Our overall philosophy is to help riders reduce fear, use less energy, and ride with greater precision. ADV travel is not the time or place to push limits, training is.  However, training needs to be incremental and professional.

LR: Do you offer women's-only classes, and if so, what differences do you notice in single-gender classes vs. mixed-gender classes?
Bret: We have offered women-only classes as requested or when there is a need for them. The women's classes are always my favorite; I have so much fun with them. To be honest I was terrified  with the first all-women class we taught, but now they are my favorite.

Men and women do learn differently (general statement, I know), but it doesn't mean one way is better than the other; it is only different. In general, women prefer more details up front and are interested in scenarios and solutions. They also follow directions exactly as given with little deviation if any. Where men will fill in the blanks even when there are no blanks.
This means, as instructors we need to be very exact in the instructions given, but also we are then rewarded with riders that develop much more quickly as technically-accurate riders. The ambiance of the women's-only class is also distinctly different. The comradery and team support within a women's-only class can be felt, and the cheering and support on all levels is amazing. I love doing women's-only classes and wish we could offer them more often. I hope that sometime in the future we can offer a women-only BDR training tour.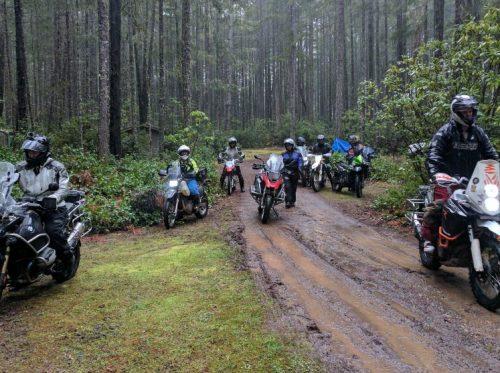 LR: What is the special ingredient that makes your training unique?
Bret: Our special ingredient is the experience and attitude of our staff. We use our training exactly as it's taught and have ample experience riding and traveling locally and internationally. We also have no egos to pad and nothing to prove. We understand the importance of explaining the whys and hows so riders can choose how to ride, what to ride or how to build their kit based on their personal needs. Our instructors travel on everything from 250s to 1200s and recognize both are the right choice for the right job.
We have no brand loyalty or bias and focus exclusively on our riders. We are trainers, cheerleaders and coaches and have a pure passion for what we do. Our unique approach to training riders is so successful that even the US Military and law enforcement have been using us to train combat troop and patrol officers. What we do works and works well. The secret is no secret, but to truly understand what makes us different you have to experience it.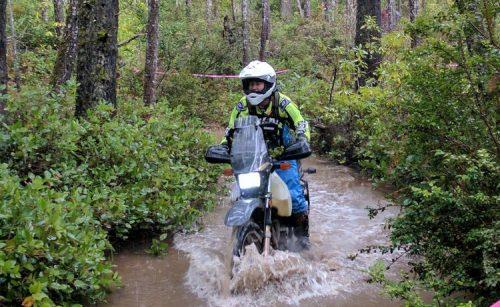 LR: How are you different from the other off-road schools?
Bret: We have been told by riders that have come to us from other schools locally and nationally that our ability to identify their specific needs and methodical step-by-step process has helped them learn faster, understand more and feel safer. Since the beginning of our off-road program in 2002, we have never had a serious injury. With our students numbering in the thousands, that is unheard of accomplishment.

Our low-ratio classes, low-energy riding techniques, and technical-focused riding style are unparalleled.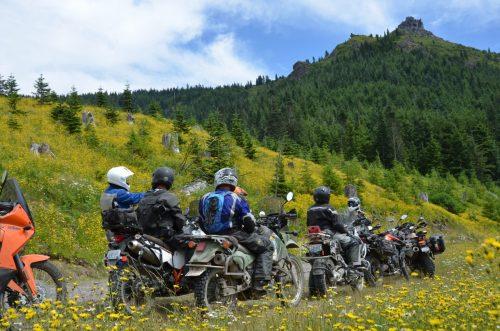 Low-Ryda's Highs and Lows
Highs of PSSOR Adventure Basics: I really enjoyed the "play first, learn second" philosophy of the class. Chet was incredibly calm, playful, and encouraging.  The class was small, about 6 people, so we all got individual attention. I really appreciated the words "Not enough people are dropping their bikes!"  I need to be pushed to push my own limits, and having people want to help me pick my bike up helped me do that.
Lows of PSSOR Adventure Basics: The class was appropriate for the event, but left me wanting more!   
Your Field Tester
Low-Ryda
Height: 5'2"
Gender: Female
Experience Level: Novice
Bike: Suzuki DR650
Class Level: 1
Structure: Mixed gender 4 hour class
For More Info
For More Info, check out the PSSOR WEBSITE
Like this story? Watch out for Women ADV Riders WOW – our brand new magazine concept, coming soon!
Meanwhile, check out this related article about DIRT BIKE SAFETY TRAINING!