BY EGLE GERULAITYTE
Before I met Paul, I have ridden as a pillion passenger for a total of maybe a couple of hours. While I'm not exactly a badass off-road maniac or a serpentine road ninja, I do love riding my own bike – even if it's a little Chinese 150cc or a scruffy old TDM850 – because riding is ridiculously fun. So when we decided to explore Europe two – up, I did have my doubts. How would I handle my new role as a Sack of Potatoes? How am I going to contribute to the mileage? What do pillions do, anyway?
The Slumber
In the beginning of our European exploits, it turned out that the hardest part of being a pillion passenger was…staying awake. As we headed for the Dover ferry to go to France, I fell asleep twice head-butting Paul and nearly sliding off the bike; in Belgium, I had trouble keeping my eyes open even when we were riding the smaller country roads, and the only thing that kept me awake was my job as the cameraman. Finland was especially dull with its hopelessly straight roads and endless fir tree woods; Norway's scenery was stunning – but so was the quality of tarmac, and I'd secretly nap slouching on the top bag, unsuccessfully pretending I was just watching the clouds.
Finally, I had found a solution: I started working while riding. I'm a freelance journalist, and it's not easy to keep up with deadlines when you're on road. So I whipped my old tablet out and began using it as a mini typewriter: all the way through Denmark, Germany, Poland, Czech, and Hungary, I'd type away on the passenger seat, producing articles for travel magazines, writing up interviews, and scribbling blog posts. The back seat of Paul's Super Tenere became my office.
I'm also responsible for taking pictures while we're moving; I pay the highway tolls; I hop off the bike to open gates, ask for directions, and get the pump at gas stations. Combined with my back seat office activity, it all makes me feel like I do contribute to our travels – even if I am not doing any riding myself.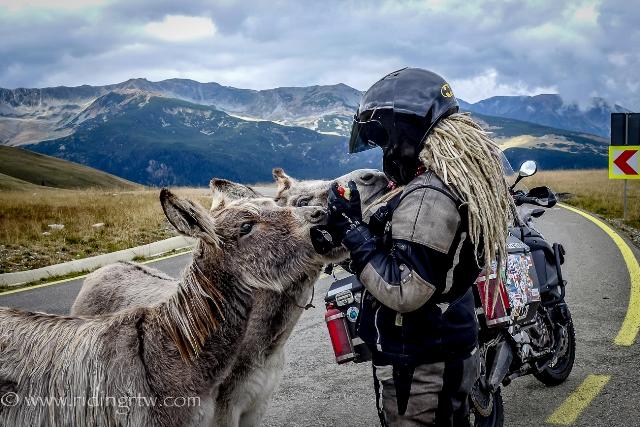 The Death Road of Greece
It's easy enough to behave and be a model passenger when you are on tarmac – all you have to do is sit still and enjoy the view. Off road, though, it's a whole different story – especially if you are suspicious of heights and a bit wobbly on gravel like me.
After having an amazing time exploring Meteora, one of the most spectacular motorcycling destinations in Greece, we headed south to catch our ferry to Crete. But before getting to Athens, we decided to ride the Agrafa Mountains: local bikers assured us the riding there was phenomenal, and we felt like it was time for some adventures.
And adventures were ready for us. The Agrafa Mountains are sparsely populated, stretching across the middle of mainland Greece. 'Agrafa' literally means 'unwritten' – and it definitely felt like an uncharted territory: a string of tiny villages and medieval monasteries perched on top of the cliffs, the region is a combination of harsh and forbidding mountain slopes, vertigo – inducing cliff drops, and rocky riverbeds crisscrossing the narrow valleys.
After riding some glorious hairpins and switchbacks on the paved road entering the Agrafa Mountains, we soon found ourselves following an off-road section. We'd hoped the gravel would soon turn into tarmac again, as it was late afternoon already; but the pavement was nowhere in sight. Climbing up an ever narrowing path, we were soon riding a rocky track clearly meant for goats and pedestrians instead of big, heavy bikes. Trying to stay very still, I kept offering to jump off and walk for some sections, but Paul somehow managed to keep the bike upright even with the luggage and me on.
The path was still climbing; we were now riding along the edge of a gorge – and the proximity of a sheer drop was disturbingly close. White – knuckled and holding on to the sides of Jesse panniers for dear life, I tried not to swear; occasionally letting a muffled yelp out in my helmet, I was struggling not to look down. It's not that I'm afraid of heights, I'm just a little skeptical about them – and I get dizzy looking down gorges and cliffs as it is, let alone while perched on top of a moving motorcycle. I have ridden the actual Death Road of Bolivia, but it wasn't anywhere near as scary as the Agrafa experience – I guess when you're riding yourself, you concentrate on the road and the riding rather than staring down the fringe of a cliff… And now here I was, having nothing else to do but stare!
As Paul negotiated the incredibly steep path down the valley, the bike rumbling and roaring, the rear tire skidding uncomfortably close to the edge, I tried focusing on documenting our precipitous descent; frantically taking photos, balancing on the foot pegs and clawing at the side boxes, I realized that being a Sack of Potatoes on someone's bike involved much more responsibility than just staying awake.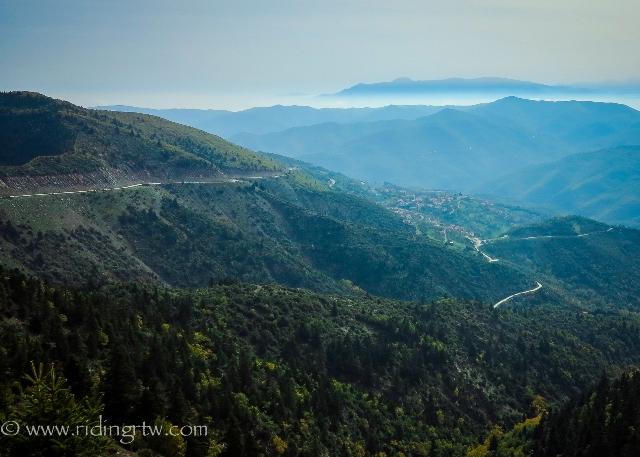 The Glory
As our European journey draws to an end, there's one more thing I'm still struggling to come to terms with as a passenger: the sense of achievement. When we finally rolled into the courtyard of our hotel in a small village and peeled ourselves off the bike completing the crazy goat path ride in the mountains, I felt drained; Paul was exhausted, too – but also proud. And that's what I'm sometimes jealous of: the sense of fulfillment after a hard day's riding, the feeling you get when you're bone – tired and covered in mud but happy as hell because you've just had the most exhilarating ride.
We are riding the same bike on the same roads looking at the same views, but Paul gets all the joy – and all the glory – of actually getting the job done, while I'm hanging out at the back trying to keep still. It's probably a lot easier to be the pillion if you'd never ridden a bike yourself, but once you have, being a passive observer becomes much harder.
On the other hand, I get to daydream, get work done, and take photos while Paul has to deal with the tediousness of straight roads, bad visibility in the dark, and riding in the rain. Paul is forced to stick to Coke while I'm indulging in a pint of beer when we meet fellow travelers but still have miles to cover; he has to deal with crazy Romanian drivers while I'm leisurely taking the atmosphere of Bucharest in, and it's up to Paul to cover distances over flat, dull landscapes while I'm keeping myself busy typing away on my tablet.
Bottom line? Being a pillion passenger is certainly a different experience, and it makes life a lot easier as well as the journey much more cost – effective. Life on the back seat of Paul's Super Tenere is perfectly safe, smooth, and cushy both literally (the custom seat is incredible) and figuratively; but I confess, I can barely wait for spring when we switch to two smaller bikes and set off across the back roads of America!